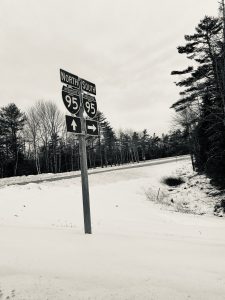 I pushed down the blinker lever and tapped my toe onto the well-worn brake pedal. The feedback caused me to consider that I was braking a bit too late, but I would safely make it through the turn regardless of the thick slush that coated the frost-cracked tar.
I had an appointment about twenty-five-miles south of my hometown. Interstate 95 is the conduit to greener pastures. At least, on this particular day.
I have been driving on ice, slush, snow, and—now and then—dry pavement for over forty years.
I turned the wheel a bit harder to the left and transitioned my right foot back to the throttle to give the front wheels the nudge they needed to pull me out of my easily controllable skid. It's not the skidding that gets you into trouble, it's the panic that sometimes accompanies a loss of friction between rubber and macadam.
If you have driven long enough in the snow belt of America, a skid is merely another opportunity to become a champion; a savior of steel and glass while utilizing only the skills learned from other— previous— skids.
The human brain is a magnificent time, speed, and distance calculator. The collection of the feedback and data was immediate, and without any conscious thought on my part.
I believe that fleeting recollections of close calls from road trips past were retrieved with nary a millisecond to spare. That data directed  my twin palms with just the perfect amount of left-hand pressure, while my right foot received a dose of proper pedal modulative capability.
I missed the ice-covered guardrail by a meter or more, and I barely scuffed the stacked snowbank with the sun-faded right side bumper cover.
About halfway through mid-skid, I was able to glance toward the hot coffee daintily dancing in the dash-mounted retractable drink-holder. The cup appeared to be making independent plans to free itself. This was —most likely— caused by the cup's overwhelming fear of being entrapped during the impending crushing crescendo of man, machine, and mad multifunctioning musculoskeletal maneuvering.
In the end, not a drop spilled out of the adult-style sippy-cup cover that is currently all the rage among the caffeinated cowboys who ride the American highway.
Sure, there remained a standardized dose of the remnants of residual cold coffee that would ride within the rim of the cup's shallow gutter until spilled by an overzealous sipper. This miniature gutter is always topped-off by the drive-thru clerks who tend to high-five one another when they are able to install the ticking coffee timebombs into the cars of drivers wearing white dress shirts and expensive ties. I was wearing no such thing, at least, on this day.
So many of us ramble down these on-ramps every single day, and none of us consider where all of the others are going. We look ahead to the long dark ribbon of promises and possibilities and we begin to contemplate when and where our next pass will take place.
I accelerated smoothly and began to consider the impending need to merge with all the others who had already had their own—previous— on-ramp revelations. It was doubtful that their left or right turn was as action-packed as mine was. I turned up the radio hoping for the perfect blend of guitar and percussion, maybe some brass and woodwinds; was a dose of Earth-Wind-and-Fire a possibility?
You see, the algorithms and calculations continue as we dance our way to completely different destinations. We damn the other drivers who have the gall to get into the passing lane before we can manage to do the very same thing. We jockey for position, pre-plan passes, and make audible estimates about the closing speeds of those who are soon to become larger than life in our rearview mirrors.
Suddenly, the stalked becomes the stalker as we are quickly transitioned to the vehicle that is closer than it appears to be in that very same driver's rearview mirror. We curse the passer for violations of laws all the while pressing our right foot down in order to keep up with them so we can get the plate number in case we need to call them in for blatant and heinous traffic infractions.
The uncontrollable nuances of the road are the great equalizer. Purported progress slows us all down at some point as we catch up in the well-marked construction zones. We expound to our passengers that we are now directly behind "that jerk" who passed us about fifteen miles back. We all wonder what their hurry could have been, but we seem to forget our own.
I brought the green glider up to a speed that was fit for a straight shot down Eisenhower's answer to the smooth movement of people and their things. I've used this on-ramp hundreds of times. It's led me to meetings, vacations, funerals, and weddings. It's marked the beginning of arguments, make-up kisses, joyous reunions, and some very sad days.
I readjusted my grip on the wheel and reached for the now-settled cup of coffee. I brought it toward my lips and then stopped it— suddenly— just short of the sipping zone. The capped-container gave me a twelve-ounce tactile Ted Talk regarding Newton's First Law of Motion as the hot dark roast proved the scientist's revelations to be one hundred percent correct yet again. The sloshing confirmed all of it.
I held the cup a bit higher in a vaguely waved toast to my run down the one-thousand-foot runway of time and pressure-hardened petroleum and aggregate. I had places to be. I turned up the radio to drown out the buffeting noise of the seventy-mile-an-hour wind through the ancient side-window seals; I found that Green River Ordinance was up to the task. "On Your Own" began to soulfully—and statically— narrate my journey perfectly.
With so many of us rambling down these ramps every day, we should spend some time considering where all of the others are going. We should also take a bit of time to contemplate and determine our destinations. On-ramps are good interludes for these kinds of considerations.
I took a sip of coffee, spilling none of the remaining residual remnants from the recessed rim down the front of my winter jacket. Winning at sipping can still be considered winning. Why do we not celebrate more of these tiny victories of life?
Thanks for stopping by my page. I appreciate your support.
*For those of you who have clicked the BuyMeACoffee widget, thanks for supporting my effort to use the escape pod from the Facebook mothership.* For those of you who cannot tip the author, or pay for my silence, please come, read, spend time, and don't worry about it even a little bit. I want everyone here. If each month you feel you got something out my website, drop a few dimes. If not, come, comment, read other comments, and just be part of the family. People might come for the writing (sometimes) but they stay for the comments. It's a great space.
I have received so many notes from folks who determined they wanted to leave the intrusive face-plant platform, but they also wanted to read the pieces that I write. This will be the clearinghouse for all longer form writing from this point on. Yes, I will still used Facebook, because it's a good place for some things.
Just drop your email into the easy to see pop-up box that allows you to have a couple of pieces a week stuffed right in the virtual mailbox. We will never sell your email addresses.  We send the "newslogs" out on Wednesday nights, so be patient. In the meantime, you can come here to read them as they are posted.
The Facebook overlords have severely limited the reach of my posts along with the posts of many other Facebook writers and creators. When you have sixty-four-thousand folks who sign up for posts, and a large number of them write you notes—weekly—to tell you that they just don't receive your stuff anymore, you know it's time to do something different. It ain't cheap, but it's fun. We are so happy you stopped by.
Tim Cotton
(Copyright-Timothy Cotton 2021)