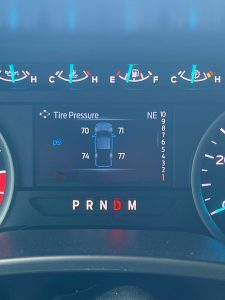 The pickup truck was wallowing about on my last journey to the east coast. While it is heavily sprung, and the roads are bad from here to eternity, I felt that the steering inputs caused it to be a tad more squirrely than typical.
I had a heavy trailer in tow, and that certainly exacerbates any asphalt-derived irregularities. I chalked it up to improper tongue weight and incorrectly inflated tires.
I wouldn't say I am a stickler for maintenance, but I pay attention and keep up with the necessities. I enjoy the feeling that I get when the oil has been freshly changed and the tires rotated to opposite sides and opposite ends. It seems that engines feel like they run smoother and quieter after new oil has found its way to the crankshaft and all the other internal bearing surfaces.
I think it's a psychological smoothness, merely a self-imposed moment of motorized Zen. Still, it's good to know there are five thousand more miles between you and the next belly-crawl under the filthy chassis.
As I was killing a bit of time between destinations, I manipulated the steering wheel-mounted controls so that the tire pressures would be shown on the dash screen right before my very eyes.  It's the one feature that I think should be standard equipment in all new vehicles. I don't trust that the numbers are one-hundred percent accurate, but it's a good starting point when next you find yourself handy to an air hose. Seeing the pressure in digital form is much more informative than getting a flashing yellow light on the dashboard that looks like a tiny flat tire.
I noted that the right front tire was about five pounds below the manufacturer's recommended pressure, and the two back tires were also severely lacking in the inflation department. I would have written that they were slacking, but it was too easy and could be considered grammatically inferior wordplay.
I made a mental note that I would take a few minutes— when I returned to Bangor— to check them with a proper air pressure gauge. I usually have a compressor with me on working weekends, but this time I left it behind, knowing that there would be no need for it; I was wrong again.
My Sunday morning coffee, church, more coffee, car wash, pastry run, newspaper reading on the waterfront, bagel munching session allowed me some time for tire pressure checks. I dug into the back door cubby to dig out the old electronic gauge. It's a nifty device that displays the pressure numbers with glorious LED clarity.
I could see that from the tiny screen that the battery was low, but I believed it could still be trusted to give me a few checks before going to the dark side for good. I would change the battery later.
I added the appropriate amount of air to each of the ten-ply tires. It seemed to take forever, and it made my knees ache because of the time spent in the kneeling position. I should do more of that for other reasons, but the tarmac made it a painful endeavor. I prayed for sweet relief, as well as a more powerful compressor the next time I took on the task.
My target goal was sixty pounds of pressure in each of the front tires and sixty-five pounds in the rear tires. Still, it took far longer to reach the needed threshold than I expected. I stuck with it. I used my electronic gauge between each dose of air, and while the device seemed to be a bit wonky, I reached my goal on each of the Kevlar reinforced Goodyears.
I've put a lot of air in tires and never had it seemed to take so long to add enough to get the required pressure readings.
I kicked the last tire like a seasoned specialist, and I surmised that the pressures were—now—certainly higher.
My first few miles were jolting to the capped cup of coffee in the center console. Black bean juice shot forth like lava from Vesuvius out of the singular sipping slot. This Goodyear-related geyser was not normal behavior for my cups of coffee, even on Maine roads.
Our frost-blasted byways should not be confused with your "Main" roads. The additional E denotes the fact that we have EXTRA potholes.
The jolting was jarring, and I am an affirmative fan of a firm ride. Passing a couple of cars on the northbound I-95 turned into a full-fledged hellish sleigh ride, and I slowed to below the posted speed limit to inquire what the heck was going on. Upon my quivering manipulation of the steering wheel controls, I discovered why it took so long to fill the tires with air.
Each of the displayed digits (see accompanying photograph) indicated approximately ten more pounds of pressure than required by the manufacturer's suggestions provided to me on the door jamb sticker. While I could easily explain away a pound—or two—in either direction of being exactly spot-on, these numbers were far higher than those that had been displayed on the faded screen of my tired tire gauge.
I concluded that the pain in my knees had been brought on by a weakened battery in my electronic air-pressure checker. I spent about double the time in the crouching tiger position than I should have. This also shed some light on why the wall-mounted gas station air dispenser strained so much while filling up my tires. I had been pushing Zeppelin-level air pressure into a tire meant to be filled with far less.
No, I can't explain how the gauge could have been recalibrated by a weakened battery to read ten pounds too low in the pressure category, but I did glean a life lesson from the Conestoga-like ride quality that was my gift after trusting the badly behaved device.
In life, we sometimes depend on the wrong people for good advice. Yup, I should have double-checked the pressures on the dash-mounted device soon after topping off the tires. Relying on one gauge— or one person—for the best advice is not always the correct course of action.
Additionally, I depended on that one device while disregarding the low-battery warning and wonky behavior. Yet, I still accepted its information as "pure gospel." I should have known better. I do, now. I have added a new air pressure gauge to my gear, and it doesn't rely on battery power.
Nope, this story really isn't a devotional, but my knees still ache, probably for the wrong reasons.
Surround yourself with wise counselors, check their batteries (or background) before depending on their advice. In a society where we receive much commentary and unrequested input from SMO (social media only) friends, we need to exercise caution.
Getting bad advice can makes many things—even tires—much harder.
Tim Cotton
Copyright May 2021
P.S.
*I appreciate that all of you stop by my page. I also want you to know that I have read each and every message left for me in the BuyMeACoffee App. I get a notice on my phone when anyone leaves a donation, or sends a note. I read them all. Thanks for the emailed notes, the wishes for good luck, the offered prayers and blessings, and the humorous and sarcastic scribbles. It's fantastic, and so are all of you who have come to the page, purchased my book(s), or take a moment to glance at my written thoughts on the faceplant machine.
Your Friend,
TIm