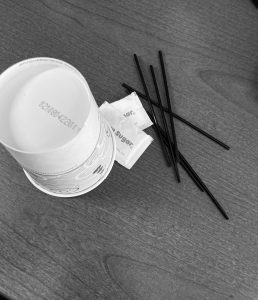 I wasn't trying to be nosy, but I cannot deny that I listened to the conversation between the store employee and the patron who waited his turn at getting to the cream dispenser.
It was a counter area where I don't spend much time, and I am a bit timid to admit that there are a few days each year when I add one sugar and one cream to my coffee.
There is no rhyme or reason to when that happens, but it does. I take it black on all the other days.
I was on one of my jaunts to nowhere in particular, and it struck me that a little bit of sugar might aid me in ridding myself of a slight headache. I'd been driving for about an hour and a half, with about thirty minutes left to my final destination. There are times in life that you want something sweet.
The store employee methodically refilled the refrigerated countertop cream and milk dispenser while the two of us waited her out. The man in front of me knew the lady, and they talked about the sudden loss of a mutual friend. We will call him Jerry.
"That was awful quick, and he was such a nice guy," she said.
"Cancer, no one even knew until he was in bed permanently. He was a tough bird."
The man had a distinct Maine accent. It was thick, with a bit of a whine. Some say that a true Maine accent sounds a bit like "crying between the words."
Maybe that someone is me, but I heard it somewhere else first. Some friends from the west coast claim that I have a slight accent. I disagree.
My compadre of the coffee condiment counter had his hair styled the same way my dad and my uncles presented their hair in the early 70s. It was neat, with just the right amount of product; combed over, with a distinct part on the right side. I could describe it as a more modernized version of the D/A style. Some—here—will know what I mean.
He had the weathered appearance of a man who spent some time outside, on the coast. His jeans were dark blue, unfaded with orange stitching, and they were neatly pressed. I surmised that he wasn't working today.
The back of his plaid shirt was bloused— and tucked in—properly. You don't see that much. He had been in the military a long time ago, or he was raised by a man who was.
He told the milk lady that he was heading to town to get his COVID shot. It suddenly made sense to me. He came up in an era when you dappered-up a bit to go to an appointment.
I was raised the same way. For some reason, I dropped that charade a long time ago. I think it's a rebellious message meant to push back against the grain of a life spent inside uniforms with polished shoes and black polyester clip-on ties. I still have my court suits. They are slowly going out of style, fading further back into the recesses of the closet. I don't tuck on days off. I feel okay about it.
I envied his commitment to looking sharp for a needle stick that might make his life easier. I'd been inoculated for months. It had all but slipped my mind that many of Maine's rural folks were longing to be vaccinated. Most would have given their right arm for the special treatment I had received while getting my shots— earlier— due to my current occupation. I am by no means special, but the job put me near the top of the lists for first dibs on shots. The government made the list, I just complied.
I could tell he was pleased that he had secured an appointment. I can't say why I knew it, but I did. Inflection means far more than the words that are shared. I was happy for him; it would probably take a load off his mind. He was just about my age, right in the sweet spot of folks who could be more debilitated by the onset of the strange disease.
I looked at his right hand. It held one paper cup filled with hot black coffee. In his meaty left paw, he held an empty paper cup.
It confused me at first, but he explained it to me like we were old friends. He didn't just blurt out the reason. I had asked, under my breath, where the coffee stirrers were. He pointed them out. I saw the individually wrapped thin plastic straws in a plastic bin right in front of my face.
"You need four of 'em to stir a cup of coffee, so I do what I used to do when I was drinking." He held up the two cups and mimicked the pouring of one into the other.
Several of his fingernails appeared to have been slammed—hard—into some painful mechanical contraptions. They clearly had been utilized to pry him out of some difficult situations. He was a tradesman of some type, possibly a fisherman enjoying a rare day off.
"Once I put the cream in, I mix it by pouring them back and forth between the cups. Wastes a paper cup, but it saves on plastic stirrers. Damn things are so small that they don't even move the coffee around in the cup."
"It makes sense," I said. And it did. It made perfect sense.
We watched the clerk manipulating the machine so that it could soon supply the cow-created creamy goodness to the parade of coffee drinkers who would march by over the next three hours.
In that short moment in time, I found out that Jerry had passed away from cancer and that the man in the plaid shirt was a recovering drinker who was kind and considerate to share his method of perfectly mixing a cup of coffee with cream and sugar. He didn't have to do that, but he did. That might not be a big deal to you when you are in a hurry, but it made me feel accepted in an unfamiliar environment.
We waited as the lady attendant made sure that the clear plastic bag filled with half & half was metering correctly out of the cream dispenser.
I grabbed a single packet of sugar and dumped it into my cup of coffee. I used two of the plastic straws to stir it rapidly. The man was right; the damn things barely moved the coffee around in the cup. His hypothesis had, now, become a proven theory.
I skipped the cream out of respect for the kind man's process. He didn't need me hanging around behind him—waiting—while he mixed up his coffee.
I walked to the register as I reflected on how fast Jerry had been taken from them. In that short memorial service for a nice guy, I had learned a lot. I wondered how Jerry liked his coffee.
The clerk offered me a reasonably priced club membership for future discounts on coffee, I declined. I told her that I didn't live in the area, so it wouldn't do me much good. Of course, she already knew it.
I nodded my head back toward the man who had unknowingly made the stop worthwhile.
"I want to take care of his coffee too." The clerk punched in the extra and I paid the bill. He raised his single cup toward me in a toast and said, "Hey, thanks!"
I could see that he now held a quart of motor oil in his other hand, probably destined for the truck with the opened hood parked out by the gas pumps. I wish I had seen the 5w30 as it would have been the gracious thing to pay for it. We could have talked about how many miles were on the Ford. It would have been pleasant to find some confirmation for my hasty conclusions. None of it was any of my business, so I determined to just move along and try to nurse away my headache with some improperly mixed Rwandan roast with one sugar.
As I pushed the door open, I heard him say to the clerk, "He was a nice guy, do you know him?" The door shut behind me, cutting off the conversation, but I know she told him that she didn't.
It's good that Jerry had a lasting impact on his friends. I surmised that he'd be happy that they remembered him as being worthy of a mention during an important moment in the everyday life. I was pleased enough to have entered the ebb and flow of the imaginary club for nice guys.
I didn't buy his coffee to be considered with that kind of reverence, of course. I bought it to show a tiny bit of bean-infused gratitude for small favors, and maybe because, in a world filled with people who sometimes cause me frustration, he made me feel at ease for fifteen seconds. That's worth a buck seventy-nine all day long.
I pulled the shifter into drive and waited for a few miles to take the first sip. There are times in life when you want something sweet.
Copyright Tim Cotton May 2021
*Thanks for all the support for the Facebook page, the writing page, the newslog, the kind notes, the not so kind notes, the BuyMeACoffee support, and the friendships. I hope you all have a great week.
TC