I ought to get the A/C repaired in the Green Glider, but it reminds me of all the car trips we experienced as kids.
With the front windows all the way down, and the back windows dropped to half-mast, it really is tolerable.
Having a reasonable recollection of lyrics helps you sing along, but the wind does eliminate some clarity from perfectly good music pumped through twenty-one-year-old paper cone speakers.
It's nostalgic to put your left hand out the window and recall the best way to curve your palm and fingers to get the proper lift effect as you pretend your hand is the wing of an aircraft.
No one hollers at me—these days—for the experimentation. For years I fully believed the story about the boy losing his hand to semi that crossed the yellow line. Poor kid; I've beaten the odds so far. Both thumbs up!
Yes, I know that some of you have formed your hand into a human wing to recall the feeling that it brings; hopefully not in a public place. It's cool.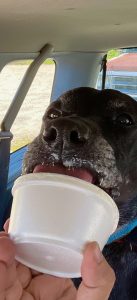 Yesterday's drive back from the camp was coastal, by choice. It's guaranteed to be a bit cooler due to long runs with the Atlantic to your left.
You can drive inland— about thirty miles— and take a road that only includes fir and deciduous companions lining the macadam. On that route, it's much harder to find ice cream.
That's how this photo came to be. Hard serve is not typically the ice cream of choice for Ellie. She usually gets soft-serve. It just so happens that our favorite taco spot also serves the good stuff.
She had to work at it, and I began to tire of holding the cup. I noticed that her pupils all but disappeared during the arduous licking, and her eyes glassed over for fear that I would pull the cup away too soon for her to extract the last of the creamy confection from betwixt the tightly formed beads that formed the styrofoam container.
It did give my tacos time to cool, so the interlude did nothing to deter me from dinner.
No, I didn't have ice cream. A man has to know his limitations.
TC
&
Ellie