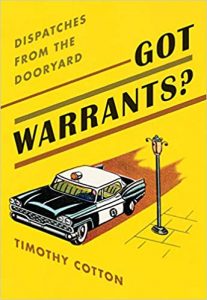 I spend a lot of time rewriting in my head. That's one of the reasons why I like long drives.
Book number two—out in October— is finished and has since been tucked away with Michael, the editor. I don't follow the process, but it seems that I rewrite this stuff a bunch of times, then I let someone else look at it. They find problems that I didn't. Lots of problems.
I rewrite it again, but I still miss things. I then send it back to Michael, and from there, it disappears into the slowest moving process that I've ever experienced. Of course, my book is not the only book in production at the publisher's headquarters. I am but a minion on an endless wheel of written words and pounds of paper. Sooner or later, the book will come out. I'll find other mistakes. Hopefully, most of you won't notice.
The interaction at signings is most likely my favorite part of the process. Just for your information, those are not for you as much as they are for me. To meet those who have taken time to read your hodgepodge of thoughts in written form is an experience like no other. I am hopeful we will have more than we had last year when "The Detective in the Dooryard" came out.
"Got Warrants" is coming. Pre-order it if you can, it helps keep the publishers off my back as they get all antsy-in-the-pantsy about making the misinformed decision to put me under contract for the next marginally pleasant reading experience.
Hey, I'll be at The Maine Cabin Master's Open House/Fan Day in Manchester, Maine on July 25th. I'm going to be a guest on the live Podcast, and I'll be hawking some books. I have a box or two of "The Detective in the Dooryard" to sell as I need to get them out of the house before they get that old book smell. I'll be signing and smiling. Stop by if you can. Check out their website, Facebook page, or stop by The Woodshed to sample some delicious examples of food and drink.
Thanks for the notes at BuyMeACoffee, The messages, and kind words from around the country (a few countries, really) are pretty great. Thanks for the ongoing support for my website.
I received a note from a lady last week who had a hard time navigating the BMAC application; she wanted to send me a check. Please, don't send me any checks. Don't worry a bit if you can't figure out the application. That is not a mandatory part of being a member of the gang here at TimCottonWrites. It's for those times when you feel that I wrote something worthy of throwing me a cup of Joe.
Maybe you canceled your subscription to Better Gardens and Dilapidated Micro-Homes, and you'd like to pitch in a bit for the weekly posts. Possibly, you cleaned out the couch cushions, and the change is too sticky to put in your pocket for fear of excessive lint build-up. Whatever the reason, why or why not, you donate (or don't), it's just fine.
This week's Newslog post is from a Facebook post that I wrote last week. Maybe you already read it. If so, move along as there is nothing to see here. Actually, I think I put it into a separate post, so just scroll around a bit and find a photo of Ellie eating ice cream.
TC