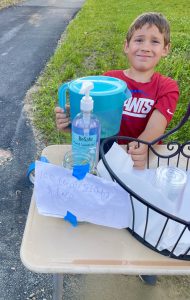 I drove right by the manifestation of the American dream, and I immediately kicked myself for it. I regretted my dismissiveness for over two miles and one-half of a country song that I can't recall right now.
I was happily haunted by the hopefulness that I saw in his face as he tried to make the sale. I couldn't read the sign he was holding up while slowly panning from his left to his right as I passed him at twenty-eight miles per hour. No electronic device could have tracked me any better than the eyes of that little rascal.
It was clear that he was selling something cool and refreshing to drink, but it was a little after six o'clock in the evening, and I wasn't thirsty. I just wanted to get home, feed the dog, and re-heat something for dinner.
My mind provides flashbacks that are unrelenting visitors, and, for about one mile, I recalled selling red berry Kool-Aid with my best buddy, Todd.  We needed fifty cents each in order to make entry into a local Revolutionary War history museum for a tour. Yes, it was a long time ago, but certainly well past 1776.
It took us over two hours—as I recall—to raise the one dollar. But upon the completion of our tiny and underfunded enterprise, we did get a personal tour by the in-house curator before the place closed for the day.  Looking back, I am pretty sure that my mom and dad would have fronted us the money, but it was a good feeling to be independent businessmen selling Kool-Aid for ten cents per Styrofoam cup.
My right foot hovered over the brake pedal at several locations that provided me an ample opportunity to turn around, but I kept going. I wasn't thirsty, not for a drink.
What I was thirsty for was a sip from the crumpled Styrofoam cup of the America where I grew up. I hit the left blinker and took a side street that would ultimately lead me back to the lad who was clearly placed there, at that very moment, so that I might taste—once again—the small and seemingly insignificant segment of a life that I had once lived.
He was kind and polite when I asked his name. I guessed his age correctly; I am pretty good at that. His presentation was on point, and he provided hand sanitizer for his patrons. I wanted to get inside his head. Not too deep, mind you, but just far enough so that I could get an idea about the long term plans of this young man named Alex.
"Is there anything specific you are hoping to buy with the proceeds of your sales?"
"A Lego set" He said.
"Which one?" I said.
"Ninjas," he said.
"Ahhhhh!" I said.
It was clear to me who drove this well-executed plan of action. Ninjas. I should have guessed. It all made sense.
"I'd like a cup of iced tea."
Alex swiftly transitioned from salesman to server. The ice—suspended in the tea— clicked, clacked, and collided together as the cubes rushed toward the cup. Some were intentionally allowed to escape from the spout of the pitcher. It was a masterful business strategy; it allowed the customer's concoction to remain cool if they needed to mobilize and move on after the deal was done.
How many pitchers have you sold today?"
"I think, eight? I'm not sure. This is my last one."
This was fortuitous. I had arrived just in time—for both of us.
"I have a lot of respect for you, out here, working late. I appreciate it. I want you to know that Alex." He smirked, but remained silent.
I slid the only folding money I had into his jar. It was much more than the price on the sign, but we are smack dab in an inflationary period. I was amazed by the generosity of those who came before me. His cash jar was overflowing with bills in denominations that appeared to be much larger than his very reasonable— one-dollar—asking price. The kid was killing it.
It was obvious that all of us were paying the price for something more than a cup of iced tea. It was a veritable buy one, get one free event. The second item in the transaction—free to all of us who had stopped by— wasn't meant to quench our physical thirst. We stopped for something more, and I bet all who stood there long enough walked away with exactly what they were looking for.
I told him it was delicious, with just the right amount of ice. He smiled the subdued smile that a boy of his age should be smiling when contemplating the compliment of an an odd stranger who was asking far too many questions.
I asked if he would mind if I took his photo. Maybe I could help him advertise a bit if his venture ever expanded. He said, "Okay."
I didn't sense elation in his demeanor, I wasn't his highest paying customer. I did, however, sense a bit of his satisfaction in the sale as we both headed toward our separate suppers.
I know, because I have felt that satisfaction before during my own rendition of this American dream.
Tim Cotton
(Copyright 2021)
**Post Script—The following day, before I posted any of this story ( I wrote it late that night), I stopped by and spoke to the pleasant parents of Alex. I introduced myself, and I told them of my encounter. I let them know that I had written something that I would like to share on my blog, and maybe on the Bangor Police Page. I inquired about using the photo I had taken as I knew there were some folks who might find it to be intrusive, and you cannot be too careful. Mom said that she had seen me take the photo from her window seat at the house. In her mind, she wondered why I might have done that, but I guess I appeared to be a decent human with no bad intentions. I also made sure they were okay with me sharing their son's first name. I then asked permission from Alex himself. I was cleared to share those tidbits, and his photo. We had a nice visit. As for the Lego Ninjago purchase, mom and dad are urging Alex to open a bank account first, and then—together—they will review the costs associated with an investment in Ninjagos. You know, good parents helping the lad move through his new found wealth in a thoughtful way. Step two of the American dream—personified by concerned and caring overseers. Could any of us have made it without a little of that?
Make sure you follow me on Facebook @TimCottonWrites and subscribe to my website Newslog by clickity-clicking in an email address. I won't sell—or giveaway—your email, you'll just get the Newslog delivered each week, sometime after midnight on Wednesdays. No bigs, but we would love to have you join us.
Thanks for your support, and for reading my stuff.**
TC