I grabbed the two empty water jugs and trudged through the path lined by beech, hemlock, and pine. The grass between the tree roots and rocks swished against my boots and jeans, and I stopped whistling Earth Wind and Fire's "September" for a few moments.
After being absent for most of the summer, the red squirrels have returned. This early absenteeism had been the topic of several conversations, most often, with my son. We discussed the uptick in hawk and owl sightings, and, during a couple of campfire colloquies, our theory was ready for publication. I realized, standing there with empty plastic jugs, that this needed more study. I should call him.
I chalked up the influx of fuzzy red tree devils in the upper branches of the beech trees to a banner year in crop production. Between the squirrels and the blue jays, the canopy of leaves has been abuzz with activity.
The jays scream and flap while squirrels chatter and scold. They all want the nuts, and they make it known.
I restarted my ruck toward the oasis where my water awaited. Due to the diligence of Canadian disc jockeys during my last listen to Sunday's playlist, I broke into a more vocal rendition of Earth, Wind & Fire's "September." Ba de ya de ya de ya." My faux falsetto was off by a mile, but my outside voice didn't bother a soul. I put up with the chattering and screaming of the wildlife, and they can deal with me.
I hit the gravel road and sauntered a few hundred yards to the empty clapboarded cottage. My summer neighbors have moved along as they abandoned Maine for far western destinations. They left early this year; gone to see family on the other coast for a time. I care for the place, opening and closing it so that they don't have to.
I repair a few pipes, some lights, and most recently, a hand-carved wooden bird. His perch is a pencil-thin wooden dowel, and it snapped after a four-foot drop. I suspect the cat, but he's not talking. My post-break proctology utilized a Milwaukee drill and a quarter-inch bit. Residue from the remainder of the rod was removed through rudimentary router-like action. A re-glue made him good as new.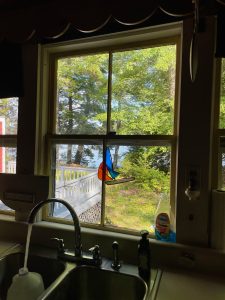 The water stays flowing through the camp until I judge that overnight temperatures demand a quick drain down of the interior pipes. Last year I was a bit too late, and I had to put on my plumber's pants.
They let me fill my water jugs as partial payment for my mediocre service. I don't have a well at the lake. I use the vast cistern that sits in front of me for an endless supply of showers, but my drinking water comes from other sources. Viv's is a good one. Poland Springs should be so clear and tasteless. There is a cold-running spring at the front of my property, but hammer-driving a well point has been put-off for years. Someday, maybe.
I unlock the place and enter the barren kitchen to find all the furniture covered in sheets. It's a far different piece of paradise at the height of summer. Nightly meals at the twelve-foot wooden slab of a table find me sitting in my regular spot enjoying Michelin-three star-level meals in the middle of the Maine woods, at least a couple of times a week.
Being male— and alone much of the time— causes the mother/chef/friend in Viv to believe that I need feeding. My phone rings sometime around three o'clock on Friday afternoons.
"What time are you going to be here, because we can eat whenever you like."
"Viv, I'm gonna be a little late getting in. I had to pick up a (fill in the blank), and they didn't have any in stock. I have to stop in Ellsworth. Sammy is with me, too."
"You bring him, of course. I made more than enough. Just come when you boys get to the camp. We have three different desserts, and Bob made pork roast."
"We will be there around five-thirty."
We stay until it's well after dark, and we feel our way back to camp, counting our steps in and on the gravel road until we guess where to turn onto the path back to my place. An occasional branch whacks me in the face. The inadvertent minor ankle sprain in a newly created chipmunk hovel creates word strings not fit for dear mother's ears.
Once through the trees, after scuffing your feet along the route to avoid tripping over the same old roots, we finally see the glow of the lamp I that left on for Ellie.
Today, Viv's place is cold and empty. But the view from the kitchen—where Bob washes the endless dirty dinner dishes—is the same. I fill my jugs, lock up, and wander slowly back to my place. I stop to speak directly to the chipmunk, who is still cleaning the last of the summer's Virginia peanuts off the red-painted porch.
"You're lucky, little fella. Viv is still feeding you!
I trudge back with the two jugs filled to maximum capacity. Up the gravel road, a quick left down the path by Everett's place—he's back in Rhode Island—and then over the roots and rocks that cause me trouble on all the walks back in the dark. I broke into my outside voice again, and none of the wildlife cease their work; it's September after all.
.
"There was a ba de ya, say do you remember,
ba de ya, dancing in September
ba de ya, never was a cloudy day."
Tim Cotton
From the jagged edge of America
September 2021
Hey folks,
Thanks for stopping by and reading my stuff.
Once again, thank you for the support through the BuyMeACoffee club. A couple of new folks joined the Royal Order of Dooryard Visitors this week; welcome! Your donations allow the page to remain open and free for anyone to read. We will always keep it that way. Thank you for your generosity. It means a lot to me.
Your friend,
TC