I like to think of myself as an individual who notices the little details that make up the bigger picture. I don't claim to have been the best detective, but, in hindsight, I was pretty good.
I wasn't a collector of physical evidence. I was more of a mouthpiece. A conversationalist. An interviewer. I did depend on good evidence techs to gather the clues that would make future conversations with suspects more focused and fruitful.
Television shows that are popular right now tend to praise crime scene investigators. I can't stand watching any of them. Mainly because I know that fiction makes seeking the truth seem so exciting; it's not.
The techs that I worked with never looked like those on the television, and they were much more snarky. None of them got into shootouts, car chases, or were involved in the physical arrest of suspects. They were too busy doing the arduous work that made them happy. However, I also know, if television productions were to show an actual investigation from beginning to end, no one would watch it.
The impetus that led me to this blogpost centers around the quilted packing blanket that I've been toting around for years. It's not an exciting story, but I am low on material for a variety of reasons.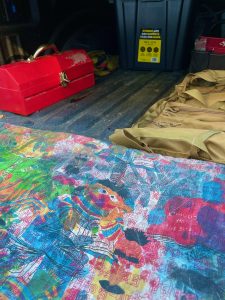 The protective blanket became mine well over twenty years ago. I am making rough estimates, so it could very well have been with me for twenty-five years. I used it to move from my first house to my current home, and that was in 2001. It's been with me on camping trips as a sleeping pad, covered furniture in the back of my truck, used in other people's trucks, and has been utilized as a makeshift bed by three of my dogs, one of whom slept on it this past weekend at camp.
I've loaned it out to other people, including my son. When he moved north a couple of years ago, he took it and kept it for a considerable amount of time. I always get it back, fold it up, and stow it somewhere in the truck. I've become attached to it, but this past weekend I made a shocking discovery.
There are Muppet characters emblazoned all over the darn thing. Not once, until pulling it out of the truck this weekend, have I ever noticed Ernie, a figure of Bert, or the slogan that says, "The Joy of Cookies."
I stood at the tailgate, after shaking out the gravel, and stared, stupified. I have completely missed the whimsical characters all over my pride and joy of a packing blanket. No one else has ever mentioned it to me, and I have loaned this to dozens of people.
Sure, I have observed that the blanket presents many of the primary colors, but I never noticed the letters of the alphabet or the shoeprints that look remarkably like the soles of Ernies big sneakers.
I stood for a few minutes looking over the intricacies and details of something I have loved for many other reasons. Now, I have reason to love it more.
If someone had been watching me, I believe they might have seen a bit of moisture well up in my eyes. I wiped it away with the cuff of my dirty shirt, cautiously looking around to see if anyone had caught me in my moment of Muppet mindfulness. Those little rascals have been riding around with me for a very long time.
I snapped a photo, probably to share it here, and I folded my blanket and put it back in a location more toward the front of the bed, way up under the tonneau cover. Suddenly, I wanted to take better care of my longtime companion of softness and safety.
The Muppet moment (or three) confirmed my belief that we don't pay close enough attention to the things, maybe the people, who are close to us. We all miss the little nuances of life by hurrying to fold things up way too fast. Is it because we all want to get on to the next big thing?
We all need to slow down and look for the characters who are hiding within the primary colors all around us.
Have we missed the simple joy of cookies? I did, and it was my blanket.
That's all I've got. Have a great week.
Tim Cotton
September 2021
Hey, my new book comes out this week. "Got Warrants?" is in all the bookstores, on Amazon, and at all fine retailers. When you are a low grade, blanket packing mope your advertisments for new books are word of mouth, Facebook, Instagram, and your blog. I mention it because in order for publishers to continue to print your books, you need to sell the books. That's where you come in. Take a moment to pick it up if you can, and make sure that you give it a review at Amazon, Goodreads, and other locations where they let you type stuff. It helps me tremendously. This book is a great gift idea, and my goal is to have it on the back of thousands of toilet tanks nationwide. I appreciate it. Thanks for your support for my blog, for my further blogging though the BuyMeACoffee application, and for the kind notes. I appreciate it. TC