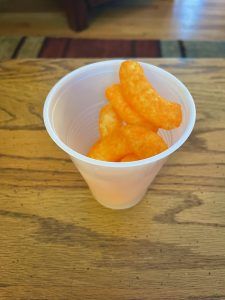 I clipped coupons for the first time in my existence. While I normally toss aside the warehouse club coupon book, I thumbed through it for a couple of minutes before heading out for milk, bread, eggs, "and some kind of meat." That was the direction from the Significant One.
She stopped by the house for a three-day respite from whatever she does. I know it's important, I have a difficult time explaining it in detail to my friends who ask me how they can get their significant one to leave the state now and then. I think they want to go ice fishing, and for some reason, their significant ones have denied them the opportunity. I'm not getting into that business; I have my own struggles.
She also asked if I wanted any more cereal since she was making a list on an incredibly small piece of paper. I took the list, but I denied that I needed any cereal. I had recently purchased a two-for-one deal on generic corn Chex wannabees. They taste remarkably similar to the non-generic version, and I only eat cereal about once every two weeks.
Late at night, I sometimes crave the crunch and I've been out of Cheetos for a long time. I mean, I WAS out of Cheetos until I took a trip to the discount warehouse club.
I wandered by a magnificent display of chip products, and an enormous bag of cheese puffs caught my eye. I threw it in the basket even before I got to the gigantic packages of napkins. After deciding on getting three pounds of green bananas, three pounds of bacon, a ham that I had a coupon for (the first item ever purchased by TC with a coupon), and a package of Asian vegetable spring rolls (also couponable). I moved on to the coffee display and found some that I wanted to try. I was then smitten by a thirty-six pack of multi-flavored ginger ales. Just in case we have company; we won't.
Upon checkout, I was awestruck by the costs for this basket of non-listed items. To top it off, the kind checkout lady informed me that I should run the three miles back to the cheese puff display to grab another bag. She explained that I was paying seven dollars and change for one bag when I should have grabbed two bags for the same price.
I kindly argued that I only wanted one bag, and wondered why I couldn't just pay half of the seven dollars and change. She said, "No." Then she waved to the manager to inquire. The manager said, "No." I jogged back to the cheese puffs and grabbed another bag. Upon my return, winded, I realized why I shouldn't be eating any cheese puffs.
It was a good thing that I purchased so much ginger ale. I'll need something to wash down the cheese puffs.
In the end, it cost me far more to go shopping with coupons.
I forgot to mention that beef was so expensive that I purchased a rack of ribs and about four pounds of romaine lettuce. I also grabbed a four-pack of colorful peppers. We had big salads and ribs for dinner.
In order to finish up this romaine before it gets too brown to eat, I have done a spreadsheet that indicates I need to eat three salads a day for the next two weeks.
Cheetos make an excellent crouton, so I should be able to get through those too.
From the jagged edge, I remain,
TC