Ellie is having withdrawals from a few weeks with the Significant One. She only sleeps in the SO's chair for a couple of days immediately following the frequent early morning— wheels-up— departures. She then returns to her standard sleeping couch or the bay window; I suppose after the scent of a woman has left the building.
It seems that while you think that I am Ellie's person, Ellie feels otherwise. The two of them share a little of the "ladies stick together" attitude. The Significant One selected Ellie from the way-back of a parked Volvo 240 wagon. I focused on Ellie's bigger brother, Tyler. Tyler was white with a black patch around his eye. The SO was having none of that.
Ellie was the shy one in the car. All nine of her siblings were running her over. The lovely lady who brought all of the puppies to Belfast said we could pick out any one of them— except Tyler. She and her husband decided to keep him on the farm.
With that, Ellie came home. Yup, I did all the late-night walks, the feeding, the failed training at keeping her from becoming boorish and annoying; all me. Still, when mama comes home, Ellie is all about her.
Ellie sleeps well past her regularly utilized timetable that she employs every other day to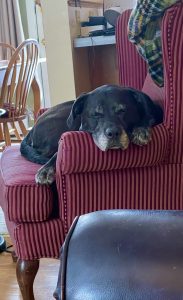 force me to rise and shine. I get up and head to my writing space without the resonant clicking of claws on the hardwood behind me. Ellie waits for her pal to get up; they come out, stretching and yawning, together. Ladies can be like that.
The minute the two roller bags get dragged out to the landing for another trip to the other world, Ellie goes on high alert. She hates the early morning departures, and she stands in the bay window to help us visualize her displeasure as we drive out of the yard. Two of us leave, one of us returns. Ellie gets a little depressed and sleeps a lot for a day or so after that—poor girl.
Once the minor moving and mayhem settles, I find Ellie back in the chair. I never sit there, and I'm not sure that Ellie would let me. She's there today. On and off, she will utilize the old wingback. Give her some time. She will come out of it. The chair will then remain empty until the SO's next visit to the jagged edge.
It'll be three or four weeks, and we will start this whole cycle again. Ladies can be like that.
TC