My dealer is a diminutive lady who has an addiction of her own; she appears to be overrun with product. I'm merely the means to an end.
It's not something that I am proud of either; men don't admit habits like this one. I'm sure my T-levels are reasonable; I still look longingly at muscle cars, power tools, and pickup trucks built before plastic-wrapped bumpers were considered stylish upgrades.
Okay, I'll admit that driving a Plymouth Valiant with a Slant-Six wouldn't bother me a bit. The term 'Valiant' certainly doesn't dredge up memories of big wins on straight stretches of road. But reasonable gas mileage and the constant ticking of the iron blocked Chrysler Corporation's bread-and-butter powerplant makes me misty for the days when you had to borrow your aunt's car for date night. Sure, it was a four-door, but double-dating could cut expenses in half.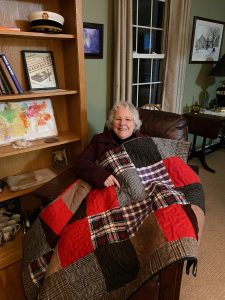 I miss the sound of the parking pin clicking comfortably home—loudly— inside the sloppy transmission when you threw it into park just a bit before coming to a complete stop.
The thing is, I like quilts. There, I said it. I like quilts.
Just for the record, I like Clint Eastwood's Spaghetti Westerns too. I think it's essential that everyone knows that.
It all started at an early age, but the addiction took hold after taking ownership of the camp in the woods. Several old quilts came with the dilapidated cedar-shingled hovel. It's been torn down and replaced, but the musty, frayed quilts were salvaged.
They were tattered and shabby from years of use. My lady-quilt dealer fixed one of them up the best she could. She usually downplays her work in a most self-deprecating way.
"I did what I could, but it's not perfect. The material is so old that the thread just won't hold. It's usable if you are careful. I'm sorry I couldn't do better."
The thing is, it was better.
My dealer gifted me the most backwoods-chic handmade quilt at Christmas a few months later. It's camouflage, and I think tiny whitetail deer prints are on the other side. I keep it at camp for naps. I use it to cover my feet late in the fall—before the woodstove fire amps up, and after tromping across the frigid floor to grab another mug of coffee.
She gave me a quilt that she felt wasn't up to her standards the very next year. She cut it in half and restitched the edges so that two people could use the same quilt while sitting— or lying— in different locations. I think there is a wool army blanket used as stuffing between the patchwork. It's marvelous.
I'm not sure if it's an actual army blanket, but the term needed to be added for a touch of masculinity; this is hard for me.
Once they get you hooked, kind and timid quilt ladies sometimes call, late at night, to advise you that they have a quilt that you might like. This past summer, she lured me to her home and approved me for a quick rummage through a colossal basket mounded with her handiwork. She let me pick one out.
She priced it low, most likely to keep me coming back. That wool quilt came with a matching miniature quilt intended as a lap blanket. It's warm, heavy, and a welcome comfort when I turn down the heat during late winter nights at Chez Timmay. She has me economizing for future quilt purchases; this is what dealers force you to do.
Things got pretty intense this past Wednesday night. She has reverted to social media for making contact. She has embraced technology to keep me interested; my Messenger app lit up. I turned the screen away from the Significant One, who is currently visiting. I don't want her to catch on.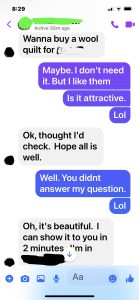 I've attached the screenshot, and you can see clearly that she is up to no good. I've turned into her best customer. The thing is, she is heavily discounting the quilts to keep me coming back.
She turned out her Kia's lights the minute she pulled into the driveway; she was so coy. I didn't hear her coming up the steps. I stowed the dog in the bathroom to keep her from barking. Silent visits from the quilt lady will surely get the neighbors talking.
This particular quilt is made from parcels of wool taken from multiple lady-type sports jackets that she has cut up since she retired last summer. She's even left in some of the pockets; I remarked that those pockets are good places to hold screws, nails, or even cigarettes.
I should explain that I don't smoke, but I blurted it out, hoping she wouldn't judge me. I'll use the pockets to store late-night snacks; she doesn't need to know.
I'm sure I'll need professional help at some point. I took TQL's photo with my latest acquisition. I can at least leave it out on the counter for use by investigators when they see my bank account is empty before they stop by the house to see if I am okay.
They'll probably find me wrapped in a quilt. I hope someone checks my pulse before rolling me out the door to take me to rehab; there's a good chance that I'm only warmly napping.
From the Jagged Edge, I remain,
TC