The last time that I ate lunch on the porch of the lilliputian cabin was in August of 1969. Back then, the shiplap siding was bright white with red trim slathered on the boards of the eaves and all vertical edges. My grandfather had a retired fireman's affinity for the color red.
The fog that settles on those transitory fifty-three years allows my recollection to add and subtract details that might or might not be completely accurate. Sometimes digging through memories is like the adage of playing with horseshoes or tossing hand grenades; we have to settle for close enough.
The thing is, I would have never packed lunch for an in-state road trip if it were not for the surprising uptick in the cost of a tiny container of coleslaw a few days before. I won't get into the details, but adding a small paper cup of coleslaw to a meal should not cost three dollars. I understand food costs, and I support business owners in trying to eke out a living in a challenging market. But I can make lunch far cheaper than I can buy one. I also know that a cup of old cabbage is still cheap; but so am I.
The coleslaw price gave me a wake-up call that drove me to the cupboard to make a couple of sandwiches and steal a single-serving bag of cheddar cheese Goldfish from the stash I keep for visits from my grandaughter. It's more relevant to the trip because my grandfather would have always packed lunch rather than buying it roadside; He was thrifty for life. I've only been committed to the cause since the coleslaw incident.
I headed to West Paris, Maine, on a mission to find a small aluminum boat for the camp. The seller, a retired plumber, said he would be at home by ten a.m., and I was welcome to stop by to see the one he had for sale. I took the entire day off from work, planning to take only backroads to the destination.
A sunny drive on a cold spring day is something that I refer to as "blowing off the stink" of winter. It's not a melodic phrase, but our catalog of terms is not meant to please others, only to convey a thought or a feeling simply and with as few words as possible. I cut through Sumner, Hartford, and many small places that I've not been to in years; lovely, all of it.
The boat was not exactly what I wanted, but there were more to be seen before June arrived. I asked the plumber if the old Snow Falls Cabins were still standing over on the Bethel Road. He said that I couldn't miss them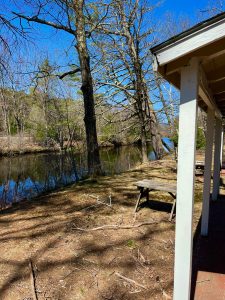 . I told him that my grandfather bought the place when he retired from the fire services in 1968. I droned on about spending many summer days fishing on the riverbank of the Little Androscoggin with my dad and grandfather. He was as vaguely interested as any man might be on a sunny spring day.
I didn't tell him that for two weeks in 1969, I was dropped off for an extended stay at the cabins while my mom struggled through the childbirth of my little sister. The sixties were different, and moms and dads didn't share all the details of difficult situations with their kids.
I knew that something serious was going on because only dad stopped by mid-way through my visit. I remember hushed conversations in the kitchen while I tried to sleep in the hot attic bedroom. Whispering meant that it was not for me to hear, and, naturally, I struggled to hear everything. I didn't. My sister was born, and I was advised that mom needed some time to rest.
I don't know— for sure— where my older sisters were, but I think Kim was at Uncle Bob's, and maybe Robin was there with me; I don't remember. I was only six.
I watched my grandmother iron the sheets—every one of them—for the small rental cabins. After they were squeezed dry through the compression rollers in the four-legged Maytag, they were line-dried in a western Maine breeze that smelled like spray starch and sunshine. I can still hear them smacking and flapping with sharp cracks when the wind picked up. My grandmother must have used a pile of clothespins.
Crisp sheets were my grandmother's calling. Her Salvation Army Officer College years followed her when she made the tight and perfect hospital corners on all beds at home or in the guest cabins. You slid in and out like a letter in an envelope. Comforting really.
I learned that it was naptime when "The Days of Our Lives" theme came on the little black and white television in the laundry room: "Like sands through the hourglass, so are the days of our lives."
It wasn't nearly as traumatic as it sounds because I knew gramps would take me fishing in the late afternoon, so the nap was the only roadblock to overcome before the bliss that followed.
I jumped in the Ford and drove over to the cabins, now painted a hideous shade of beige, for sale, and in a sad state of disrepair. I pulled off into the sandy spot that used to lead to a driveway in the back of the, formerly, little white buildings. I sat in the truck for a few minutes, the scene was blurred from a bit of dust in my eyes. With the windows down, I have to admit that I searched the air for any scent of Niagra spray starch or Woodman's fly dope. I reached for the roast beef sandwich and a bottle of water for my low cost picnic lunch, but only if I wasn't kicked out for trespassing.
More to come…
From the Jagged Edge, I remain,
Tim Cotton
Part two of "Road trips, Pricey Coleslaw, and Lunch at Gramp's Old Cabins" will be available next week. Please come back, consider joining in getting the Newslog sent to your email each week. Just sign up by hitting the banner, "Get Tim's Newslog." Easy Peasy.
Thanks for reading my stuff, buying the books, supporting my efforts.. I appreciate your support for the website through the BuyMeACoffee app. Remember, to be inducted into the Royal Order of Dooryard Visitors you can sign up for regular financial support on a monthly basis. One time support is also appreciate, but not necessary. Also remember that you need to do nothing, and pay nothing, to read the Blog posts at TimCottonWrites. We want to remain an open concept living area for folks who just want to read the stuff. I appreciate all of you. Time is precious, so the fact that you stop by here is a big deal to me.
Thanks,
Your friend,
TC