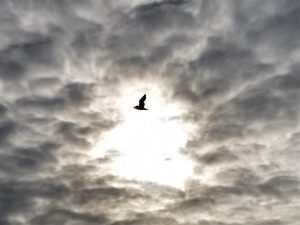 I leaned against the cruiser while pushing the door tightly against the roofline. I subconsciously tried to crush the rubber weatherstripping tight to the frame. I felt it might mitigate any of our conversations from being heard inside the passenger compartment of the Chevy. The occupant had already been told—by me— her aunt had passed away in the horrific crash but that her mother had survived. 
To give a death notification is akin to a bad dream. To reissue the statement with the clarification that you were wrong the first time is a world-class nightmare. My mind was working, searching, really, for a strategy to take back everything I just said. No one else would deliver the news that the woman's mother was gone. I contemplated how it would go and considered that telling her that her aunt was alive would somehow make it better. That worked—I thought—the first time through when I had said to her that her aunt had passed away but that her mother was alive. There was no way the opposite was true.
I got back into the driver's seat and slammed the door behind me. I did it quickly, maybe to build up the courage to spit out the bad news rolling around in my mouth like dry crackers and sawdust. I avoided eye contact—at least for a minute— with the woman in the passenger seat. I observed a van slowly pulling up to the scene, and I could see on the side of the van the company name of the business where her husband worked as a tradesman. I felt some relief with the thought that at least he would be here to console her after I pulled the rug right out from under her life. 
I prefaced the bad news with an introductory statement that I don't even recall now. It's foggy. It's been murky for years. I know it was inadequate for the situation, but it's all I had. I told her that we had been given the wrong information and that it was her mom who had passed away due to the accident. Her aunt was alive. I apologized several ways, ensuring not to throw anyone else under the bus. She didn't know them; she didn't hear it from them. It was me, and only me, who had spit out the wrong information. 
I recall that she was gutted by what I said. I expected her to strike me, and I was prepared to take as many blows as necessary; she didn't. She wept because we weep when our mom passes. The pain? I don't know. I couldn't feel anything for her. I could only sit stupidly, trying to come up with something else to fill the void. You know I couldn't. I could just sit. I probably reached out to rub her shoulder again, but I don't remember that either. 
Her husband arrived and took over the duty of consoling her. I spoke to him, but only briefly. I don't remember what he looked like, but I remember them walking back to his van, probably to go to the hospital. The day didn't end there, but my time with them did. I had to continue with witness interviews, measurements, traffic control, and paperwork. The physical wreckage of that day was cleaned up in a few hours. 
I have been to some horrific events; I did pretty good work. Since that day, I can't count the number of death notifications I have given, but I can tell you that the lesson learned that day has taught me that you don't rush into things. You pause, you double-check, you ask again. Then you ask again. 
While this job is based on the mistakes made in the imperfect lives of others, I've managed perfection in all notification tasks since that day. That one moment still stands out. It improved future events, but there's no going back to repair the damage done. Whether that damage was to the family or me, it stands, as is, forever. 
This is where many readers feel I need a pep talk, a pat on the back, a consoling set of words to make me think that I did my best. I don't want it, and I don't need it. I write things honestly about my career, but pep talks don't fix the mistakes. I'm not beating myself up over it; I am reflecting on it; I've done so for over thirty years. 
So much so that I looked up that accident about a year ago in a regional database. I found the crash, just the pertinent details, though. There is nothing jotted down about the daughter's name, for she was not part of the official accident documentation. I remember her address, but you don't dig around in a database for personal information without an official reason to do so. I let it lie. I let it die. I've always wondered about how things went after she left. I've always wanted to apologize to her for not doing my best work. 
I've told that story to a few cops. I tell it, so they will strive to do their best work, especially when giving death notifications. I tell them that if a person wants to strike out at you during a death notification, suck it up. Let it happen. The strikes will become hugs, but our job is to be the stalwart individual, at least for a few horrible minutes. 
Three days before I retired, I was sitting in my almost empty office. I think I was going through hundreds of yellow sticky notes I've kept gathered in piles, believing I might need the information again. The sun was beaming in, and I was looking toward the door where I had a stack of boxes to take out to my car when I had a moment. 
Our heating and cooling guru, a pleasant man I have never spoken to more than a few times, walked in and asked if I had a minute. I've been in multiple different offices over the years, and he has been in all of them trying to fix things. When the heat pumps in the building go haywire—and they do, a lot—our maintenance crew calls this fellow. We have joked about different things, but I never took the time to learn his name. He's always been funny. He seems to get it that cops know nothing about heating and cooling. Usually, he is on a ladder with his head stuck inside the ceiling panels. 
All he said was that he wanted to congratulate me on my retirement. He also wanted me to know that his wife said thanks for everything. 
I asked him to hum a few more bars. He reflected that I had covered the accident in Hampden a long time ago when her mother died; her aunt was in the car too.
 I swear, the hair on my neck stood up. I had just told this story to one of the guys over a coffee conversation no more than a week prior. 
I stood at my desk and reached out to shake his hand, I learned his name, and he told me his wife's name. I told him, briefly, that the accident had been on my mind for a long time, over thirty years to be specific. I asked him if he felt it would be appropriate for me to call his wife if it was okay with him. He assured me that it was. He gave me her number and told me where she works now. 
I did ask him why he never brought this up over the last ten or twelve years; he didn't have a specific answer. He told me that his wife just wanted him to tell me thanks for how I handled that day. 
He walked out and continued his work like nothing at all had happened. I sat for a few minutes and watched the traffic on the street below. After a few minutes of reflection, I got up to move those boxes to my car. After all, it was finally time to move on. 
From the Jagged Edge, I remain,
Tim Cotton
Postscript: For the sake of the privacy of the lady and her husband, I have chosen not to share names or details about follow-up. The fact of the matter is that I have not reached out to her yet. Sometimes, we get closure in ways that cannot be defined. I do have her name and number on a post-it note. I've put it in a safe place. 
Thanks for visiting my site, reading my stuff, and donating to keep it happening. I appreciate it so much.
TC