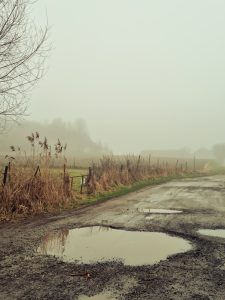 The last good walk with the dog in tow, or vice versa, was about four weeks ago.
The snow got too deep, the hill too steep, and even she was huffing and puffing—fighting through the snow drifts. I'll admit that I was huffing and puffing with more vigor. Some might look at it as distress. Oh, we walked the streetside a few times, but sidewalk walks are fraught with other annoyances.
We took another shot at it this week. Two different trails are now covered in receding granular snow, leaning toward ice. The funny thing is, going down is more challenging than coming up, so we ended the stroll by taking an alternate route; a side road.
The connector to that street is a short dirt road branching off into several driveways.
I go out on walks with the full intention of avoiding human contact. Not because I don't enjoy a little conversation but because I don't enjoy it all that much anymore. People are wonderful. That is until they aren't.
My momma thinks I am anti-social, and so does my significant one. My son claims he understands, more so since he became a cop. I like encounters to be on my terms; if they aren't, I am pleased to avoid them.
You see, for years, the time and place of my meetings were determined by others. Once you are in total control of who you see and who you don't, there is overwhelming freedom that I cannot overstate. I am happier saying no to all kinds of things now. The word rolls off my tongue with a buttery smoothness.
When I saw the older fellow pushing his wheelbarrow up the muddy road, I saw no escape route. Ellie was already growling; conversation was necessary. Once I speak to someone, she figures it out. Ellie calms down and sniffs the area in a smoke-em-if-you-got-em sort of way, probably realizing there isn't anything else to fear. Not that there was, to begin with, but she has yet to grasp the concept. She's only eight, so there's still time.
"Futile, isn't it?"
"What's that?" he said.
My phrasing could have been more precise, and by shortening the sentence and, hopefully, the encounter, I made the question confusing.
Now, I had to clarify that I could speak proper English. My discombobulation created the problem. I should have kept walking and merely waved.
I said, "Filling the potholes; it's futile, isn't it?" I think I spoke louder, considering that maybe I muttered the first time.
He smiled, put the rear landing gear of the wheelbarrow down, and outstretched his left hand, pointing it at a muddy pool of water, "That one is deeper than it looks. I filled it once already."
We both looked at the puddle, and I had to take his word for it. I was about ten feet away. If Ellie hadn't already settled down so calmly, I would have meandered over to look into the puddle with him.
I enjoy looking into puddles, especially if it's a strategy to minimize over-verbalization. This would have only enticed Ellie to approach the man in the way that dogs with no manners often approach a man. Her jubilance is not always the best way to make new friends.
He was a happy fellow, ten or so years senior to me. He wore a warm hat, gloves, and a coat buttoned up to his chin. I was wearing only a sweatshirt with some staining and nothing on my head. Yes, I had pants on, but I looked iffy. If I were him, I would have avoided all contact.
He was from an age when people spoke to one another more cordially. I appreciate that. Sometimes I wish I had been born ten years earlier; maybe I would be more inclined to be polite and not so concerned about what I wanted to do next.
I dropped my guard. He was a good guy. Once I figure that out, I am all in.
He saw that I was ready for more, and he launched into a Maine explanation, "What happens is people park their cars here as the ground thaws out. It creates a real mess. They don't care."
As short as his statement was, I understood. People don't care. They don't care that an older man is fixing the road when they aren't around. People don't care because they don't have to fix it themselves. One of the benefits of people having some ownership of a little piece of America is that they tend to take much better care of it. I was looking at an in-person example of that—a dying breed.
"You'd think a person who has spent more than one mud season in Maine would see that the ground is soft, and they'd park somewhere else. You're right; they don't care." I was only restating what he said. A tactic I learned could sometimes create a connection between two people with no history together.
We were now in tune. Here I was, the grumpy guy with a dog, trying to avoid bothering anyone, and he was a man who was concerned about a road in disrepair, but he was going to do something about it.
I was still moving, albeit slowly. I know what it's like when I have a chore I want to be completed. I didn't want to impede someone from doing their own.
"Keep the faith. It'll be all dried up within a month or so." I waved a friendly wave. Ellie was ready to move along too. She knows when it's time to go. She'd pulled off into a grassy area to make it known that she'd checked it, leaving her calling card in the nearby ditch.
"I hope so. Have a good day!" he hollered out, picking up the handles to the wheelbarrow and moving closer to the big pool that was deeper than it looked.
I looked back and flashed my best I hope I didn't bother you smile.
He looked up and answered with a smile of his own.
It is likely that we will talk again. Probably by summer.
From the Jagged Edge of America, I remain,
TC
Many thanks for reading my stuff. Thanks for subscribing, for the donations to make it all happen, and for friendly conversations that make it all worth our time.