I'm road trip bound. I could fly. The Significant One piles up the travel points and is willing to share them with me. I declined.
By mid-trip, I'll rethink my strategy. Thirteen hours is a long ride by yourself. I can cover it during daylight hours if prompt in pulling out on time. I'm good at that.
I did some minor ciphering before deciding to drive. Once I arrive an hour and a half before the flight, the expected delays, a three-hour layover in New York at either LGA or JFK, and a couple more hours flying from there to her, I'm only driving five more hours than I would be if trapped by an airline.
Being responsible for all my problems is something that I embrace. Of course, other people are on the road, and bad things can happen. But being in charge of my destiny beyond that gives me deep satisfaction.
I've already selected new music, now stored on my phone, and am looking for places with good coffee along my route.
Fun fact—and you don't need to tell anyone—but I drink espresso exclusively on road trips. I discovered it when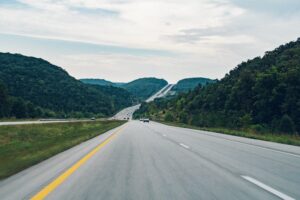 my kid was educating himself in the South. I'd drive down to pick him up, usually leaving at about three p.m. I found a nice roadside truck stop in Harrisburg, Pennsylvania, and I could make it there, barely drowsy. I parked between running big rigs, balled up a jacket, and slept like a kitten for a couple of hours. Afterward, I head out and make it to grab him by late morning. He would drive the first few hours on the way back. Then, I could take over and take us home again.
During these trips, I realized that my timing would be better if I minimized bathroom breaks; full cups of coffee make that problematic. I began to purchase a triple or quadruple charge of espresso. That only fills up about one-quarter of a large mug. Storing it in an insulated cup keeps it hot, and sipping it gives you a much better buzz from the caffeine, and there is far less liquid entering your system. Yup, that's the ticket.
I can make an espresso last four hours if I properly apportion the dosages as I slowly wander toward my destinations. It's trip-changing. Trust me. Sipping and listening; there's not much better in life.
I can wrap my head around the extra five hours added to the trip. It's just five more hours, but it's my five hours. No one can take that away from me. If the car breaks down, I don't care. You see, I rented it.
I can always find a deal for these midnight, mid-week runs. I do the math on this as well. If I can get a steal of a deal, I don't have to worry about wrecking my car in another state. With supply chains still stressed, getting a vehicle repaired quickly while far from home is improbable. If the rental car goes toes up, I'll get another. Then, I will continue my trip.
Even with gasoline and tolls, the trip costs me less than the flight would have. All that, and I still control my sanity. That's got to be worth something.
Thanks for swinging by the blog. I appreciate it.
Last week's financial support through BuyMeACoffee made it possible for me to get a few extra dosages of espresso. I tried to send many of you notes of thanks, but some slipped through the cracks. Your support for my online presence on this site and Facebook can continue because of you. Thank you so much.
From the Jagged Edge, I remain,
TC
Ellie will be home with a visitor to the house caring for her every need. She's a bit of a diva.