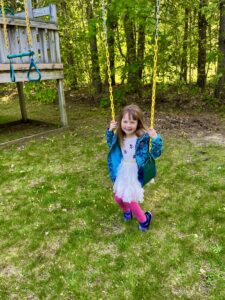 It stands to reason that I was ignoring the sounds. Sometimes, I have the house music turned up too loud too, so I am sure I've missed many of the joyous exclamations blurted out with nary a worry about how it sounds or whom it bothers.
My often open bedroom window is within earshot of not one but two swingsets. Old school fun, facilitated by a rusting steel pipe tripod, strung with medium-duty chain, and topped off with a sling seat made of heavy-duty rubber.
The archaic entertainment device pre-dates most all types of kid-centric fun. Swings have been a staple for a long time, most likely starting with merely a rope strung from a tree limb—hopefully over a creek or a pond—for secondary entertainment value. I suppose sturdy vines were used before, but this isn't a history lesson.
Since my granddaughter has been milling about, the accessible local swingsets are getting a workout. The self-described "excellent swinger" has dragged me to the contraptions if only for my skill at pushing her to higher heights than she can propel herself.
I'll take that job.
One swingset belongs to the best neighbors ever. Regular occupancy of the swingset is limited as their grandkids live some distance away. The lilliputian-sized climbing wall is there when the little lady takes a quick break from soaring. We have been given full access permission, which makes us all happy.
The other swingset is some distance away, but my window is within earshot of any pilots who take the seats.
In the last couple of months, I have had a chance for occasional naps. Sometimes the half-hour snoozes occur during a swing session for some unknown child or adult. I have listened to the sounds, sometimes in a state of complete relaxation, and I have surmised that swinging never makes anyone feel worse.
I don't see their faces, and the distance and grove of trees between us must muffle some of their excited utterances. Still, from what I hear, I am labeling almost all of it as pure joy.
One night a few years ago, I heard an argument between a man and a woman. They were using the swings as a meeting place. I couldn't make out the words, but they echoed angrily. The thing is, that never happens when the swings are being used for their specific purpose. I never hear an argument when the chains are rhythmically squeaking. You see, you can't be mad when you are swinging.
My thought, probably right after a nap that created a groggy yet creative writer, was to install swingsets in the lobbies of offices belonging to therapists, counselors, and lawyers. Especially lawyers.
I listened to my granddaughter singing her thoughts while swinging as high as she could. She couldn't control herself. At one point, calling out the name of one of her best friends as not being able to swing as high as she was at that very moment. It wasn't malicious, not even a little. Her best friend wasn't even there to see her altitude or hear her off-key exhalations. She was so happy to have someone pushing her further in the air than she could swing by herself.
Every now and then, I capture her on the backswing, stopping her cold. Then I pull her back higher than before and let her go. The screams of joy could heal the sick and make the blind see. That's what swings can do.
If you have a moment in the coming weeks and are looking for a place to eat a sandwich or read a book, drop by a park rife with kids on a swing set. Park your car some distance away, roll down your window, and bask in the aural happiness released into the ether.
I'm telling you, it will change your day.
That's all I've got.
From the Jagged Edge of America, I remain,
TC
***********
How do you like to go up in a swing, 
             Up in the air so blue? 
Oh, I do think it the pleasantest thing 
             Ever a child can do! 

Up in the air and over the wall, 
             Till I can see so wide, 
River and trees and cattle and all 
             Over the countryside—

Till I look down on the garden green, 
              Down on the roof so brown—
Up in the air I go flying again, 
              Up in the air and down!— Robert Louis Stevenson