There are many summer days when I must drive away from the woods of Washington County to attend to business a few steps back from the Jagged Edge.
While my everyday life is in central Maine, my heart is on the coast. I cannot live there full-time for a myriad of reasons. But on summer nights, when I sit by a smoky fire and stare across the lake, I feel like I should never have to go home.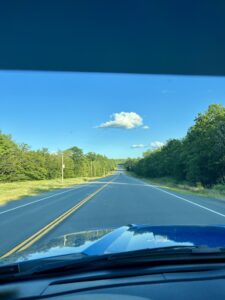 Before you start yelling at me to live my dream, know that some goals are not attainable. And even if they were, I have responsibilities that I cannot shirk. I've accepted it, but smoldering hemlock and beech mixing with cool easterly breezes fuel the dreams of many; I am but one.
Reality can bite.
I had to return to Bangor for an appointment this past week. It was on the sunniest, most perfect day of the week. It was a top ten days of the year kind of day.
My Significant One headed out in her kayak, and I jumped in the truck for the one-hundred-mile trek back home. Ellie stayed behind and didn't seem bothered by my tailgate heading up the dusty hill as I made my way toward the fresh macadam of a feeder road to Route Number Nine—The Airline.
Late in the day, my chores in urban Maine were complete. I filled up on discount gas, choked at the price, grabbed a coffee, and got back on Number Nine a little past six p.m.
Eastbound travelers were few, and I found the alone time that I craved. Much of my writing takes place on the road. Not the physical act of putting words on clean white screens, but many sentences are created between songs, sips of coffee, and views that city commuters would envy.
I decided to play a lonely word game. With no one else on board the Timmy bus, I began using single words to describe what I saw. Yes, I said them out loud when I wasn't singing along with Sirius/XM's Classic Rewind. After twenty minutes of travel, I started paring down the list.
Long about the Airline Snack Bar, I finalized the list before my right turn toward Deblois and the Metropolis of Cherryfield (The self-proclaimed Blueberry Capital of the World; yes, ironic).
Vast, Dense, Lush.
I laughed to myself, not hearing my snicker over the volume afforded to Tom Petty, that the list of words could be unique names for three exotic dancers at a northern Maine dance club. I've never been inside—true story—but the descriptions of some of the dancers have reached many in the outside world.
On the peak of the hills is where I settled on vast. I looked out for miles, seeing nothing but forest canopy.
I picked dense in the low valleys while peering down into the green growth that ever creeps toward the road's edges. You can't see more than three feet into the woods in most locales; that density keeps much of Maine a secret. Mainers like secrets.
Lush came from the deep green colorization we've experienced this year from endless record rains.
I was happy with my shortlist, and from then on, I focused my attention on the sides of the secondary roads, looking for the creatures that cross without warning. It's been a big year for whitetails, but moose are more of a concern. If you wonder why so many Mainers drive big pickup trucks, wonder no more. We love the environment, yes. We also want to live through a crash with Bullwinkle. We also carry heavy things, so there is a myriad of reasons why you bump into so many pickup trucks while romping around the pine tree state.
My hour and forty-five-minute flight passed like it never happened. Soon, I was stirring up the dust of the camp road, briefly running into a group of vibrant teens in a side-by-side utility vehicle who were ripping and tearing on the dirt road.
Our pleasant chat waylaid my return to the cabin. They were polite and friendly. We all agreed that those who buy the gravel should have some say in whether or not it is spun into the woods. My vote was for it to end, and surprisingly, they agreed.
A person's approach sometimes arms the mouths of teens; we remain friends.
As I pitched down the hill, just past the steel gate, the dense, lush raspberry bushes pinstriped the panels of the dusty truck. There will not be a vast amount of berries this year. Plenty of rain gave them hope, but the berries we have picked so far can not be described by the words on my finalized list.
The drive is a chore on some days, but on this day, it recharged me. I slumped on the old couch in front of the sliding doors to the porch and perused the last twenty pages of a beat-up paperback that's been in my pocket for far too long.
I fell asleep under a light blanket that I used to cover my toes when the sun dropped out of sight.
My slumber was no different from my ride; vast, dense, and lush.
Here's to long rides, good tunes, and lonely word games. Rest in peace, Tom Petty.
From the Jagged Edge of America, I remain,
TC
Thanks to all of you who support the Newslog through the BMAC app. You keep this train running. Thank you, thank you, thank you. I appreciate it.
TC