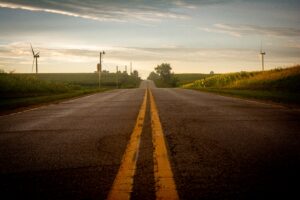 I took a one-way flight to Columbus, Ohio. Borrowing some air travel points from the Significant One made it cheaper than dinner out, even if a party of two had a good slab of steak with something decadent for dessert.
Yes, I rode back to Maine with my boy. I rode shotgun. That was the plan all along. His over-the-road travel toward the corn and soybean belt led him to some small farms in upstate New York while shopping for the perfect used brush hog. He maintains big fields now, and they need a good mowing.
The moist surprise of a rainy summer has made the fields go cray-cray. I figured to get a few days of extra visitation with my old pal on his little farm while I waited for my ride.
The times were good. Sweet corn, picked one minute before boiling, might be the new candy in my life. I ate a lot. No, really. I did.
Sitting in airport terminals gives a man time to ponder while he wanders, and it's as close as I'll ever get to a fashion show.
What's with the men's suits? I understand the leaner look that the handsome boys seek. Form-fitting suits look good on anyone fit as a fiddle. However, why are capri-level pant hemlines en vogue?
While I have only paid attention to fashion trends during the chrome vs. blacked-out bumpers on pickup trucks debate, coupled with the fact that it was made clear to me through the magic of wedgie-threat technology that 'highwater' pants in school were going to get you ridiculed, I cannot sit here and write to you that I claim any fashion sense.
Heck, I still like plaids. And, no, it's not because, for a time, it WAS fashionable. I just like plaid shirts—liked 'em as a kid, like 'em now. I wear jeans, khakis if my female fashion assistant makes demands.
Swearing off neckties as of June 2022 and tucking in only when I must wear a tie has made me more comfortable.
I tossed out most of my dress-up clothes by August of last year. I went to a high school where it was mandatory that boys wore ties, then I got the silly notion of becoming a cop. The line of work demanded either a uniform with a tie or a suit while dangling the unnecessary cloth accouterments from the neck; you get the picture—I'm out.
Men's suits with short pant legs (and short socks), finished with more streamlined white sneakers, appeared to be the combo of choice for any man wearing Air Pods and a high-end wristwatch. I sat with one such male during one of my flights, but I'd seen dozens in the terminal.
I am not afraid to ask a question and was prepared to do so. I would have inquired about comfort, for I am not a worthy judge of fashionable or not. It just seems that with short pants, sitting will cause binding in the nether regions.
In church, as a kid, I noted that most men of substance would hike up their pantlegs just as they sat down after a few hymns. I realized in later years that this covert and quick move allows ample room for the "family" when seated. You can learn a lot in church.
My seatmate was handsome, and he spent a lot of time primping even as we flew. His haircut was impeccable, but not because it was cut short for ease of care; some gel was applied. I knew because I needed to cool down our row using the spin-to-open air vent, and his hairs didn't move.
When seated, his summer-weight short suit pants shot upward from the ankle, revealing all the skin beneath his kneecaps, right down to the short socks. It appeared uncomfortable, and seeing this made me exceedingly self-aware about whether my pantlegs might be riding up over my ankles.
I raked them down repeatedly with awkward opposite-foot maneuvers, just in case. It's the same move I used to knock the dust off the toes of my dress shoes before entering a job interview. No one will see the dust on the back of your pantlegs until you exit the room. Hopefully, by then, you've won them over.
There was no chatting with my co-passenger. The earphones were permanently installed, and he masked immediately upon his glutes hitting the seat. If I saw myself on the aisle seat, I'd mask too. Maybe he's heard me speak. That would explain the headphones.
The message was clear. He didn't want to talk to people, and—probably—most of all, to those of us who dress for comfort and not style. I respect that. Why tell someone you don't conversate when you can show them?
As far as I could tell, his Rolex didn't lose a second during our two hours together, but neither did my Seiko (it needs light to charge, but he closed his window shade for the whole flight). It felt like intentional watch-shaming, but I can be sensitive. The Seiko held up. Phew! It's still ticking, as John Cameron Swayze might say.
I was forced to power up the overhead reading light to reveal the words on the yellowing pages of my musty-smelling novel. The odor of the dog-eared book mixed nicely with his cologne. I determined to hit the faded cover with a quick waxing of my Mennan Speed-Stick if I remembered to do so the next time I put some on. The book smells pretty bad, but it gave our travel pod a nice ambiance— sort of like my plaid.
I don't want anyone's skin touching me on an armrest—nope.
I work hard to keep my arms to myself during plane rides. I don't want to be that guy. I mean, outside the plaid, but I also don't want the hair on someone's legs tickling my jeans if they are determined to man-spread.
Once that started, I pushed back a bit. We cleared up the confusion with a bit of manspreading of my own. Since I couldn't compete with the watch (I'd really like one), I went with bulk created by bulkie rolls and not ten-pound, rubber-coated kettlebells.
It's too bad. Sometimes I like to talk to people who are not like me. It opens one's eyes to the possibilities. And I really wanted to know if those pants felt binding. Don't get me wrong; I can hold an awkward conversation with zero guilt. Remember whom I have talked to for the last thirty years. I just didn't get the chance.
I'll never know now. I don't wear suits, but if I did, I'd surely not be able to wear that cut. Truthfully, the man wisely used the tools at his disposal to build a wall between us. It's safer to shut ourselves off. He probably feared too much banter; I've been there myself. It's easier to build a wall than it is to install a window or a door. You can quote me.
When I returned to my most common means of travel—the road—I spoke to some pretty nice folks. A lady cleaning the men's restroom in New Jersey and a trucker on a holdover in Massachusetts.
Jenny had her pylon sign just outside the busy men's room. It said, "Caution—female attendant cleaning restroom." I thought it was nice to enter with the warning in mind. I met her while I was washing my hands at the sink. She's been there for years and said she always has used the sign. It's not a new thing. I thanked her for the clean sink and urinal. She told me she appreciated being appreciated. She had no ear pods shoved into her hearing canals.
The trucker was missing his granddaughter's birthday party in Iowa. He was on a holdover and couldn't unload his freight until Monday. We talked for a few minutes, sipped our coffee, and commiserated. He was wearing a plaid shirt, and we both like coffee.
I'll take the road over air travel when it comes down to it. It's easier to connect.
Talking through a window is more accessible than yelling through a wall. Plaid seems more acceptable on the road, and there are no questions about comfort.
Be well. Thanks for BuyMeACoffee support and all who just stopped by to read my words. It means a lot.
From the jagged edge of America, I remain,
TC