Being a veteran Yankee trader, I have embraced—well, side-hugged Facebook Marketplace. I would much rather deal with Craigslist, as the users tend to be older like me.
The early years were spent pursuing one or two old motorcycles per year. I also bought cars, lots of them.
Please don't mistake my old pastime as reserved for only the well-heeled; I had a sponsor.
My friend had a salvage yard. With his help, my hobby flourished. I'd grab a two-hundred-dollar bomb, clean it up, throw on some brakes, a muffler, and a quick interior vacuum; then I would drive it for a month. Soon, something a modicum nicer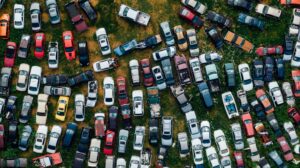 would get hauled into his yard, and I'd sell the last big thing in order to upgrade. It was fun.
I called it trading up— the low-rent edition.
I've tallied up the number of cars I have owned. I know it was over eighty as of today. Most were junk, some were good, and many were mistakes. Like I said, I did it for the thrill of the chase.
My hobby was gutted after the Obama administration instituted the clunker buy-back program. I was sad.
Older, serviceable cars quadrupled in price. Dull-finished yet reliable automobiles, with lots of life left, were traded in at dealerships for ridiculous money. Most were crushed and recycled. It cleansed the world of a few of my favorite things.
Now, the junkyard folks will give you up to a grand for just the catalytic converter in some cars— and much more for specific models.
While my son was growing up, we chased many deals together. I would frequently tell him that the beauty of America and the dream we are living is that if a person puts their mind to it, they can have anything they want.
The catchall to that philosophy, I frequently pointed out, is that you can't have everything you want. It's an important footnote. And it's a lesson I taught by buying and selling things with little value—or, at least, little value to some.
No one gets everything they want, and I don't care who you are. Don't ever plan on it. It's an excellent way to keep a person's expectations in line with the life they are preparing to experience.
I met a lot of very cool people in the trading game. Many of those folks are still my friends.
Things have changed. The Internet took away some of the benefits of face-to-face conversations—the kind that can reap friendships.
I still watch the for-sale ads: Facebook Marketplace, Craigslist, and some Maine-centric buy-and-sell sites. This piece of writing didn't come about because I want to buy your car; I don't.
I would merely like to complain about how the freshman and sophomore classes of buyers and sellers write up their ads.
The current craze is to intertwine the following phrase(s) in the description: "I won't respond to questions about whether this item is still available," "Don't waste my time," and "No lowballers."
Naturally, as a longtime buyer of all sorts of things, my first question was always, do you still have this? It seems the most polite way to avoid wasting someone's time. I also would inquire if the seller might take a little less. I like a bargain.
Facebook's genius squad makes it even more difficult for the buyer because they pre-load your Marketplace experience with the question, "Is this still available?" Some folks hit that send button by mistake. It's happened to me.
An ad should be inviting to the buyer. Something like, "I'll answer all your questions; drop me a line!"
Outside of seeing a pristine, barn-find, panhead Harley for a lowball price, I won't even inquire about ads in social media that have that phrase embedded.
If I can't ask if you still have it, you should keep it.
I miss face-to-face relationship building. I miss polite conversations with people I didn't know. I miss making an offer and having it turned down but walking away with a contact for future deals.
I guess I was wrong all along, and we will soon get everything we want. I'm beginning to believe that we deserve it.
Tim Cotton
August 2023
Thanks for stopping by for my blog posts. This blog and free reading spot will always remain open and available to everyone, and the folks who have made that possible need to be thanked. Thank you for your donations and ongoing support through the BuyMeACoffee app. You keep this train a runnin'.
From the Jagged Edge of America, I remain,
TC