My early morning run to Portland was a welcome change from heading east. But I won't make a habit of it. It cost me sixteen bucks to park.
Thankful is the man who parks for free; I have had a lifetime of that. So, I am not being a whiner. I detest giving my money away to someone much more intelligent than I am regarding land acquisition; props to them. It's part of city life. It's just that I am not integrated into that lifestyle.
My appreciation for my ho-hum existence overwhelms me from time to time. It started in Newport, Maine, when I wanted a coffee. Pulling into the slightly slumbering city on Sebasticook Lake, I changed my mind. I turned around at the Irving gas station to get right back into the southbound lane of I95.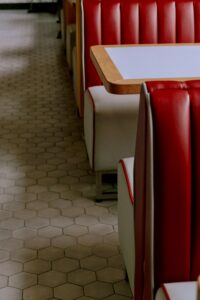 The line for Dunkin coffee was backed up to Corinna; at least, it looked that way through my windshield. I wanted to use the facilities and grab a cuppa. I decided to swing into Topsham, seventy-one miles further to the south. I have an iron bladder; it comes from years of having other people control my time. It's a mindset.
The exit in that fair city looked clogged from the commuter traffic backed up on the overpass. It's their city, and I let them have it. I continued toward the Brunswick, Maine, exit. I knew of a fast-food joint where I could grab a hot cup before my podcast appointment at nine.
I pulled into America's favorite arches, exited the car, and found the restroom clean and pleasant. With clean hands and an insatiable desire for caffeine (my second cup of the day), I walked to the front counter to find no humans. No humans besides the two waiting at the kiosk trying to input their order into the bright screens of the immobile lobby robots that have taken over for personal interaction with employees with an M on their chest.
The paper hats have been gone for a long time. I still have an indentation on my forehead from the proud way I wore mine. I digress.
The generic Gex Xer was having difficulty putting in his order. The Millenial behind him had reverted to using his phone's app to make his order. Clever, those Millenials.
This Baby Boomer kept looking toward the counter to see if humans might arrive from the future or past to take my order—no such luck. I was on a tight schedule, so I left. I get frustrated with the technologies that take much more time than a human, even an inept and shy human-in-training, would.
It's my beef; you don't need to climb on the train with the Luddite, but I know I am correct. Sit next to me; we can run our mouths about how technology has worsened our lives. We can shout at each other and then go home and listen to Eight Tracks of Elvis or maybe Buck Owens. I think I have Earth, Wind & Fire's "Volume 1" in a cardboard box around here, somewhere. "Let me take a look-see."
I got to my appointment, did what I am known to do (talk way too much), and then hit the road with over an hour left on the meter. In my younger, more stubborn phase, I would have stayed if only to get my money's worth.
I skipped the Interstate on the way home. I got off in Gardiner and headed right to the A-1 Diner. I needed a shot of nostalgia.
Of everything missing from my America, the aluminum pod of gravy and fries did not disappoint. Yes, I had meatloaf, mashed potato, and fresh spring greens. I was at a diner. I can get clams anywhere. I parked for free under the bridge.
When I went to the bathroom, one of the kitchen staff opened and held the door for me. He smiled and continued to drag on a well-deserved Marlboro. You see, to use the john at the A1, you must go outside to go back inside to get to the lavatory. I like that. There is no need for costly updates; "Deal with it, Chummy."
That cook was outside, trying to cool off. It was an atrociously hot day in Maine. And air conditioning was not in the cards.
The thoughtful management closed the diner down because of that heat. I was the last one served, and no one tried to rush me. I read an actual newspaper and cleaned up my plate real, real good. I tried to be a thoughtful patron by skipping dessert as I knew the staff wanted to get out of there, but they didn't let on. This mope was allowed to enjoy his meal. I paid cash.
With my faith in my fellow man renewed, I drove back to Bangor on the back roads. I passed Bolley's Famous Franks and turned around in a used car lot just beyond. I recalled having some grand raspberry puff pastries in post-wiener meals of the past. They had seven in the display case; I bought three.
A pretty lady, clearly dealing with the kitchen's heat, asked me if I wanted the rest of them.
"Look at me; I could eat all of them, but not today." She smiled, and so did the Chef. He looked more impacted by the heat. But he smiled nonetheless.
"Is it hot enough for you? I don't envy you today," I said with a smile. He smirked again. He had the shaved head and the face of a guy who would be fun to be around while watching a football game. I could tell he had some jokes and quips I would appreciate hearing.
The hot dogs at Bolley's are fried in peanut oil. It's a place I frequented a lot in my days as a cop. We often had to go to Augusta, Maine, for autopsies, and we enjoyed hot dogs and French fries afterward. Don't judge. The iron bladders were custom-ordered with iron stomachs and a short memory of what we had just stared at for an hour.
I hit the road via Rt 201 and passed beautiful China Lake and subsequent farms and homes that sprinkle the vast countryside of central Maine. The road has recently been paved, so the ride was terrific.
I pulled back into my driveway to find Ellie basking in the winds of the air conditioner. I put my pastries in the fridge and snoozed for a while. I took two pastries to my mom and dad in the late afternoon. They now live in a friendly community, holed up in a pleasant place in Bangor; I knew they would be open to taking some of the calories off my hands.
After a visit and no promises of how the raspberry puffs had traveled or kept, I motored home to dig around the Fridigaire for leftovers that would fulfill my desires. Finding none, I grabbed some Chinese cuisine. The shy young fellow at the register even knew how to make change.
Sometimes, you can get there from here. Don't let anyone tell you anything different.
From the Jagged Edge of America, I appreciate the cooks and servers who make my life easier. Thanks!
Tim Cotton
*Thanks to all who support my writing through the BuyMeACoffee app. You are responsible for all this writing, even though you might not want to take credit for some of it.
TC