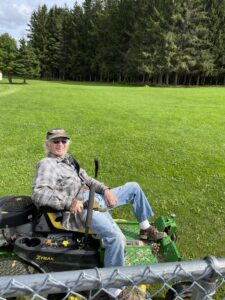 I didn't meet Tin White by mistake. We were introduced, but not in an official sense.
Tin happens to live in my glide path to Downeast. I am lucky enough to drive by his house about fifty percent of the time I head to camp. There are other ways, of course. And I tend to mix it up.
Tina White, Tin's daughter, suggested to Tin that he read some of my posts. Subsequently, he read one or two of my books. They seemed okay to him.
Then Tina asked if I might stop by sometime and surprise him. She said he enjoyed my writing and it would be neat for him to meet me.
It sounded good, but I am inherently shy. Sure, I pretend I'm not, but pulling into someone's driveway without an official introduction can be rife with dark consequences. Tina assured me he was hopeful to have a meet-up, so I kept my eye on his driveway during my comings and goings. I promised her that if I caught Tin outside, I would pull in and have a chat.
Now, I know Tin's lawn; it's groomed magnificently. I also know what he drives for a lawnmower. One summer's day last year, while driving by, I noticed Tin's John Deere parked out front. I knew he kept it undercover in the barn; this was a good sign that he was out and about. I turned around, pulled in, and knocked on the door. Needless to say, Tin is a wonderful host. He invited me into the den, and we had a magnificent sit-down. I met his lovely wife, Lanie, and I stayed too long. Tin is full of good stories.
Since then, I discovered that Tin and I share the same birth month, only one day apart! His birth name is Wilbur, but he was pinned with Tin long ago. Of course, I inquired.
Tin has always been on the thin side, and that's because he never stops moving. Since he was considered as light as a tin can, the name has been his for over eighty years and probably closer to ninety. You see, Tin is ninety-five.
Since then, Tin has attended at least one of my book signings, and I think he considers us friends. I certainly do.
That's why, this past Friday, I pulled in for a dooryard visit. These are a New England staple, and they tend to be quick, unplanned events when you pull into a friend's dooryard with no intention of going inside the house. They are aptly named.
Tin was mowing happily away with the idea he could beat the incoming hurricane. His lawn is several acres, an example of rich, green perfection. He had just unmired his mower from a wet spot high on the hillside but was undeterred from finishing up. I pulled up to the fence and waved him down.
As you can imagine, we had a wonderful time. I had no idea Tin rebuilt the barn in 1984. The house was his dad's then. The barn had become too broken down to utilize, so a teardown was the only option.
That is until Tin took a six-week vacation from work to rebuild it into the straight, true, and sturdy structure that houses his beloved John Deere to this very day.
Each time I talk to Tin, I realize that I am in no way living up to the potential that's expected of us. Tin is a pilot, war veteran, craftsman, wonderful husband, father, and friend. Tin is my friend. That's the only reason I felt comfortable— unannounced— pulling up into his dooryard.
And now you know what a dooryard visit is all about.
I am providing a photo of Tin, as he has the most beautiful smile and a darn good head of hair.
Tin's my friend.
From the Jagged Edge of America, I remain,
TC