"Now, you're sure it's a '79?
"As sure as I can be. I have the Virginia title paperwork right in front of me. Runs like a top."
Kurt had been looking for the automobile for over nine months. He didn't want to spend the money hauling the wrong car nine hundred miles north to Maine this late in the summer.
"And you are one hundred percent positive it's paint code twenty-five?"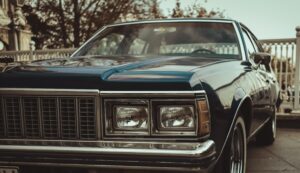 Kurt could sense the salvage yard owner reaching the edge of frustration with the subtle increased cadence of his breathing. But, then again, maybe he was a smoker.
The distinct sound of good tools on old steel arrived sharply through the phone's earpiece, causing Kurt to pull the cell phone a few inches further from his left ear. All the pings, whacks, and thumps were accompanied by what he believed was the whirring and squealing of a brake lathe in the background. It sounded like a busy place.
Stanley Meyers stated it once again, "Yes, Kurt. It's paint code 25, Chevrolet bright blue metallic—four doors, vinyl seats, smoke-free as far as I can tell. For thirty-two hundred bucks, you won't find a better example. You say it's for your dad?"
Kurt pressed the phone against his cheek as he gazed out the kitchen window at the rusting swing set in the backyard. He recalled the days when the slide was the center of the universe for the kids. The tentacles of thin maple branches reached out from the woods, trying to recruit the crooked steel pyramid to become one with the forest.
He could get down and back to Virginia in three or four days. He'd take some vacation, maybe stop on his way home in Portsmouth, New Hampshire, to see a college buddy.
"Does the radio work well, Stan?"
Stan was losing interest in the northerner's interrogation.
"Kurt, it's three grand. If the radio doesn't work, I'll find one that does. Those old Delcos are a dime a dozen. Do you want it or not? I really do need to get back to work."
"I'll take it. Do you want me to give you a credit card to hold it?
"When are you coming to get it? That's a long ride for an old Impala."
Kurt looked at the calendar on the wall, "Well, I'm hoping to haul it home." He flipped up the page to see September. "I can be there midday next Monday. "The Sox are in the cellar, but someone will be in the World Series. I'd like to get him into the car by then. Do you want a card to hold it? I can bring cash for the balance."
"He's not driving this to the World Series, right? It's a good car, but I wouldn't venture too far without a triple-A card."
Kurt laughed, "No. No, he's definitely not driving to the World Series."
Stan found it odd that any man would ask so many specifics about a plain, blue sedan. But forty-two years of buying and selling anything with wheels taught him a lot about the definitive inflection of sincerity in a stranger's voice. And there wasn't a line of buyers pounding down the front door of his shop for a non-descript, non-collectible Chevrolet.
"Just bring cash," Stan said. "And you'll have to pay the governor his share. Be here next Monday. I'll check on the radio, but most people want to swap it out nowadays for something a bit slicker than an AC Delco."
"I know, but this car is for my old man, and he can't drive anymore. But he's gotta be able to get decent reception on the AM band."
"Might it be better just to buy your father a radio? I mean, if he can't drive and all?" Stan waited for a retort in what seemed like an extraordinarily long pause. The transaction held more intrigue now. Buying a car for a non-driving family member made little sense.
"He needs this car. I won't take any more of your time. I'll rent a one-way car dolly when I get down there. Do you know if there's a place local to you?"
Stan smiled, "Kurt, it's your lucky day. I'm the only UHaul franchise within thirty miles. I'll reserve one for you. Got two out back right now."
The arrival in Bluemont, Virginia, came as expected. Meyers Auto Sales & Salvage was as Kurt envisioned, but cleaner.
The car appeared as Stanley had described it. The bigger surprise was that Meyers was a gem of a human, a Southern gentleman. He'd put a new Interstate battery under the hood, changed the oil, and found a matching set of four used radials that looked like new. The car even had all four factory hubcaps emblazoned with proper bowties. Kurt knew Pops would appreciate prominently displayed Chevy bowties.
Meyers invited him to walk over to the diner for a sandwich while his men loaded the Impala on the faded, orange-trimmed, galvanized car hauler for the long trip home.
Over bad coffee, Stan's curiosity was not to be stifled.
"What's the deal with this car? I'm glad to sell it to you, but you said your father doesn't drive. This transaction makes no sense to me, and if it's something you don't want to explain, I will still buy your lunch." Stanley really wanted to hear this; he smiled as he brought the off-white buffalo coffee mug to his lips and stared Kurt in the eyes like he already had him all figured out. But he didn't.
Kurt smirked; by now, he was becoming well-practiced in explaining the endeavor. He'd already had to sell the idea to his wife. That was harder than manipulating the nursing home administrator to give his non-driving father a permanent parking space in the tiny, low-rent senior home parking lot.
"Stan, my father was a traveling salesman; insurance mostly, but Fuller brushes and Kirby vacuum cleaners were also prominent on his resume. He drove all over New England in the late sixties and into the early nineteen eighties. He spent his best years living out of a blue Impala. He went door-to-door, day-to-day, to keep our family in bread, milk, hamburger, and Cheerios. As far as I can recall, he wore out at least three sedans, but the fourth was a station wagon. I spent my little league years in the wayback of that one."
Stan nodded. "This does clear up why you were so specific in your brand, color, and model." With that, Stanley looked to his left past the faded blue gingham curtains of the diner. The citizenry of Bluemont bustled to and fro on the narrow Main Street.
Clarity of intentions can be elusive on a long-distance phone call. Stan loved cars, but people were better. The joy in his business had always been the backstory.
"We lost my mom two and a half years ago. Now, Dad is one stroke and one minor heart attack beyond that. He's eight-nine in March. The doctor took his driver's license last year, and we sold his car. Thankfully, he can still walk okay, but not too far or too fast. Think about what that does to a man who spent his life being mobile, listening to Red Sox games while whiling away hours and hours behind the wheel between sales appointments. He slept in it to save on motels during the lulls in sales."
Stanley silently took another sip. His thick fingers clenched the cup while he imagined himself without daily mobility or purpose. Meyers considered that the story could one day soon be his. He was knocking on the doorway to seventy.
"His room is tiny, and he has a roommate who sleepwalks and watches a steady diet of QVC and any other available home shopping network program whenever he is awake. I figured I'd put this car in the parking lot so Pops could have a private spot, someplace familiar. He can listen to the Sox, smoke the occasional cigar, and maybe hang out with his buddies while sipping a cup of coffee without that lingering disinfectant smell of the nursing home. Like we are, now, you know?"
Stanley couldn't muster a verbal response, but moisture in his eyes forced him to pretend he would sneeze, and he faked one right into his napkin. In his lifetime, he had heard many ridiculous reasons why a particular person wanted a specific car. This one made good sense.
"It'll be his last Impala." With that, Kurt picked up the check, and they silently walked the quarter mile back to Meyers' shop. The car was mounted to the dolly and appropriately attached to the Ford F-150 hitch. Safety chains and the trailer wires appeared to be hooked up as well. Meyers was a full-service shop.
A tall fellow with grease stains on his forehead, probably the shop foreman, yelled, "Hey, Stan, I took the driveshaft out, wrapped it well with cardboard, and angled it into the backseat; it will tow better."
"Thanks, Woody," Stan acknowledged.
Woody then looked directly at Kurt; "Make sure you reinstall it before you call me and complain that the car won't go anywhere." He waved over his shoulder before sauntering away toward the open garage bay, all the while wiping his hands on a red shop rag.
"Let's do some paperwork and get you on your way north." Stanley walked toward the office with the new owner close behind. Inside, Stan took his time in the back office, then came out with all the paperwork, passing the stack to Kurt for a couple of Commonwealth of Virginia-mandated signatures.
When Kurt pulled out the fat white bank envelope, Stanley held up his hand so quickly that Kurt stepped back. "Nope, this one's on me. That car is heading to the right spot. I've sold enough this week. Just be sure you return that car hauler to your local UHaul depot as soon as you unload the Impala."
The subsequent argument was a circuitous route to a total loss for the Mainer. Meyers was not a man who took no for an answer.
"If you come through Bluemont in the next couple of years, bring me some lobster. I've heard it's better than Chesapeake Bay crabs, but I'd want to confirm that."
"Why don't you come up next summer and see where they come from?" Kurt was serious.
"Maybe I'll do just that!" Stanley had never been to Maine and wasn't getting any younger.
Kurt tossed three one-hundred-dollar bills on the counter. "Buy the staff lunch."
Stan winked and nodded his head, acknowledging the gesture. "They will much appreciate it, my friend. Thanks."
The drive north was uneventful outside of the frequent stops for gas. The Ford drank fuel as if OPEC had designed to deplete the national reserves. The last stop for fuel in Clinton, Maine, was almost a hundred bucks.
Kurt topped off the Impala's tank, too, with non-ethanol fuel. His father wouldn't need to be mobile, but he would need to run the engine to keep the frost off the windshield and the battery charged up.
It was October when he pulled the Chevy into the approved parking space of the Helen Weymouth Nursing Home. He backed it in so his old man and any invited occupants could watch traffic and pedestrians pass by if the game was dull or talk radio hosts blathered on too long.
The AM band came in loud and clear. But only after Kurt drilled in an aftermarket Amazon-derived, fender-mounted chrome antenna. The old wire antenna within the windshield didn't work on Amplitude Modulation worth a tinker's damn. He'd waxed the exterior to an "almost" shiny patina" and finally dangled a new pine tree air freshener from the rearview. It was period correct for the days when the old man cruised the backroads of New England.
On the long, slow walk to the parking lot, Kurt's old man rambled about the Red Sox, their last-place position, and the lack of good pitching from the bullpen. He said something about Congress, too.
"Where are you taking me, Kurt? You should take me to breakfast! I wish the Dennys hadn't closed during the pandemic. The sausage here is always overcooked on Sundays, you know?"
He stopped talking when he saw the blue Chevy attempting to gleam in the long shadow of a scraggly balsam fir tree growing on the far end of the mid-parking lot traffic island.
"That looks like my old Impala, son. Those were good cars."
"Well, Pops, this is your car. But you can't drive it. Those are the doctor's orders. And if the cops in the city catch you driving around, don't call me to bail you out."
"What are you talking about, Son? You must be joking. Whose is that?"
"I'm telling you, it's yours. I'll keep it full of gas; you can come outside with your buddies, listen to the radio, drink coffee, and watch the pretty ladies walk by. But don't beep the horn and whistle, 'cause I'll take it back. I mean it, Dad. You have to promise me you will only use it as an office or a break room from being couped up inside. And not all the time."
"Are you serious?" The old man trembled a bit more than usual.
"I'm giving you the keys. You have to promise me. No driving, just sitting and shooting the bull with the boys. Ladies, too, if you want, of course. It's got a good heater, but crack a window when you are running it as we can't have you going toes-up from carbon monoxide poisoning. Also, tell Harold not to fart too much. That tends to drive the ladies away."
"Harold farts because he's lactose intolerant and drinks milk like a fat infant. It's ridiculous. I'll work on weaning him if he wants to sit in the car." He giggled with a bit of a rasp in his throat. Kurt laughed, too.
"I cleared the plan with Mr. Phillips in the front office. He has a set of keys in case you lock yourself out or pass out from Harold's condition."
By the time Kurt finished his speech, Pops had started the car and was lightly revving up the surprisingly smooth-running three-hundred-fifty cubic inch small block.
"She's a runner, Kurt, a real runner—thank you, son. I'll only drive it on Sundays to church." Pops looked at his boy in the side-view mirror; then he winked.
"Just make sure to ask for prayers for your time in jail, Pop. No driving. Just sitting. You have to promise me."
"Of course, son. I'm kidding. This is going to be great." The old man turned his attention to the radio knobs, looking for his favorite talk station. He'd already pulled out one of the chrome buttons and pushed it back in, locking in the preset channel like he had previous experience. It was a forgotten art.
Looking over his shoulder, Kurt couldn't believe that the DMV found that the '79IMPALA' vanity plate was available. He could hear the elevated, deep voices of vehement talk show hosts already booming from the speakers inside the car from one hundred feet away; that would be a problem. But not today.
Pops passed away the following spring. He'd managed to burn through three tanks of gasoline that winter but never once left the lot. He didn't die inside the car, and for that, Kurt was thankful. He was also somewhat remorseful, for it would have been fitting.
His final conversation with staff was in the form of a complaint. Pop demanded that the dining crew stop refilling Harold's milk glass because the opening day at Fenway was the following week.
Kurt gazed out the kitchen window into a backyard devoid of the old swing set. He had trimmed back the maples, too. The Impala fit inside the grass-faded footprint almost perfectly. It needed a tuneup; the intake was definitely carboned up from idling too much. With the windows down, he could comfortably listen to the Sox games from his cedar Adirondack chair beside the fire pit.
While several members of the homeowner's association were stricken with the vapors, Kurt left their three certified letters unopened on the counter. He'd done his homework. It was only unregistered vehicles that were forbidden, and he planned an autumn trip to Virginia, maybe getting together with Stanley for lunch. He had already renewed his triple-A membership and knew a guy who could pack a dozen two-pounders so they arrived safely in Virginia.
Next Tuesday, Kurt planned to take Harold out for a coffee—no cream—of course.
Tim Cotton
September 2023
*Thanks for reading my stuff. Thanks to all the supporters of my blog through BuyMeACoffee. It means a lot to have your support. I hope you enjoyed "The Last Impala."
From the Jagged Edge of America, I remain,
TC